US distillers urge lifting of US-Russia trade barriers
Published time: 19 Jun, 2012 10:48
Edited time: 19 Jun, 2012 14:48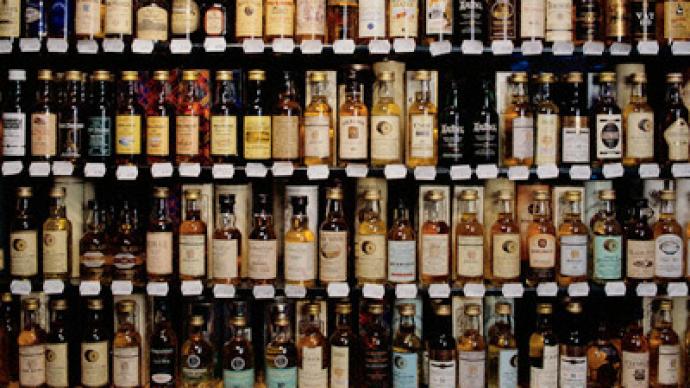 Delays on the Jackson-Vanik repeal may hamper US distillers' Russian business. The Distilled Spirits Council is urging the US Senate to lift the law to allow them to gain market access upon Russia's World Trade Organisation membership.
The legislation granting permanent normal trade relations status (PNTR) to Russia has been introduced in the US Senate, however its coming up against opposition from some Senate Republicans who say Congress must first address Russia's poor human rights record and existing economic and political policies.
The repeal of Jackson-Vanik is seen as beneficial for US businesses which seek lower tariffs and access to Russian markets once the country joins the WTO.
Senate Finance Committee Chairman Max Baucus says lifting the amendment is an opportunity to double US exports to Russia and create thousands of jobs across every sector of the US economy "all at no cost to the US whatsoever".
Russia is expected to join the organisation this summer, and US spirits and other exporters will be at a significant disadvantage to Europeans if PNTR is not in place before that happens.
The Distilled Spirits Council senior vice president Christine LoCascio said: "With Russia's WTO membership, the industry will gain significant tariff reductions and other important market access improvements, but only if Congress passes PNTR. We urge the Senate to act quickly on this legislation."
Among the benefits for the industry are 25% tariff reductions by 2015 from two Euros per litre to 1.4 Euros per litre for whiskey and to 1.5 Euros per litre for other spirits.
Russian imports of American whiskey, rum, and other distilled spirits have skyrocketed from $3.8 million in 2002 to $89.2 million in 2011. Whiskey accounted for 55% of the 2011 total, while rum accounted for 41%.
"Extending PNTR to Russia will boost American exports without risk or cost to the US. We look forward to toasting the passage of this key job-creating legislation in both houses of Congress," LoCascio added.
In early June U.S. Trade Representative Ron Kirk said the repeal of a U.S. law that can be used to put trade restrictions on Russia is a top priority for his office this year.
"Once Russia becomes a member of the World Trade Organization, we need to make sure that American businesses have the full advantages of that, and therefore it's necessary for us to lift Jackson-Vanik," Kirk told the American Chamber of Commerce in Russia. Kirk also said the two measures should not be linked.
"Our priority is for the Congress to lift Jackson-Vanik in a clean bill which deals only with the issue relevant to our ability to maintain our competitiveness" he concluded, saying, however, "the administration will continue our work" with lawmakers concerned about Russian human rights.