In crisis Americans trust: US rich increase their wealth to heights not seen since 2008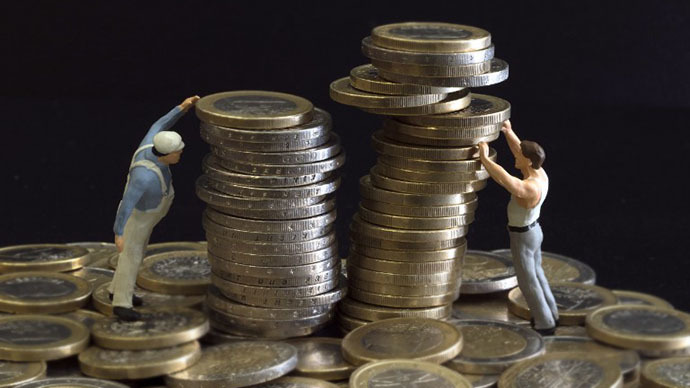 America's top 400 wealthiest citizens are worth over $2 trillion – the largest amount ever seen in both nominal and real terms – according to the latest Forbes Richest Americans list. Bill Gates tops the ranking for the 20th consecutive year.
The Microsoft tycoon, who has a personal fortune of $72 billion, is followed by investor Warren Buffett, with $58.5 billion. Gates and Buffett could have been even wealthier - the two have collectively donated more than $40 billion of their fortunes to the Bill & Melinda Gates Foundation.
Gates and Buffett are followed by Oracle founder Larry Ellison, who has a fortune of $41 billion. Libertarian industrialists Charles and David Koch occupy the 4th and 5th spots with $32 billion each.
The wealthiest 400 have added $300 billion to their collective fortunes since last year. The cut-off point to make the Forbes list has reached $1.3 billion. Such a high minimum requirement has not been seen since before the Lehman Brothers crash occurred exactly five years ago. Sixty-three US billionaires were not wealthy enough to be listed at all.
Reflecting a continuing revival of the stock market, only 30 people on the list grew poorer in the preceding year.
In percentage terms, the biggest gainers were Tesla car and space launch pioneer Elon Musk ($6.7 billion) and business software tycoon David Duffield. Both tripled their wealth over the past year.
Twenty-eight people dropped out of the list – though most of them without losing money – and six died.
Oil tycoon T. Boone Pickens is likely regretting investing in wind power, as his wealth is down to $950 million. He failed to make the list for the first time since 2005.
Facebook co-founders Dustin Moskovitz, still just short of his 30th birthday, and Mark Zuckeberg are the two youngest people on the list. The latter is credited with assets of $19 billion, putting him in 20th place.
You can share this story on social media: