The US and the UK become poorer, despite cash injections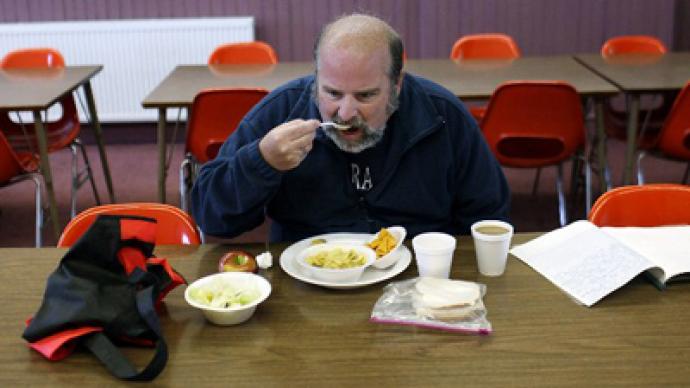 Central banks of the world's advanced economies such as the US, the UK, the EU and Japan have poured more than $6 trillion into the financial system since 2008, but the population see its welfare declining while the debt level rises at a quickening pace.
The rumors about a third round of quantitative easing course through the markets, but the average Americans would hardly be excited about it. In 2008-2010 the Fed poured $2.1 trillion to save debt troubled MBS bank in the first round of QE, while in November 2010 it bought $600 billion in Treasury bonds to stoke the economy.But the average net worth of the US families has dropped by 39% in just three years, from $126,400 in 2007 to $77,300 in 2010, putting Americans' living standards at the level of 1992, according to the recent Survey of Consumer Finance of the Federal Reserve. Meanwhile the earnings of the median US family fell by 7.7% over the same period, while lower interest rates contributed to the losses.Though the number of families reporting any debt slightly declined by 2.1% since 2007, although 74.9% of households still have debts. While about 52% of the US families managed to make savings in 2010, comparing to 56% in 2007.Meanwhile, the Bank of England had purchased around £165 billion of assets by September 2009 and around £175 billion of assets by end of October 2010. In October 2011, it announced it would undertake another round of QE, bringing the total amount to £325 billion.The average UK family with the median annual income of £25,800, or £2,150 per month, has £9,314 of unsecured debt, accounting for 36% of its income, according to the Aviva Family Finances Report. For comparison, in May 2011 average household debt stood at £5,878. With growing costs for products and services about 24% of households economize instead of spending, despite the fact that the average monthly income grew to £2,150 from £2,062 last May, report says.The Resolution Foundation think-tank is more pessimistic, saying low to middle income families won't see their finance improve until 2020. The Squeezed Britain study shows that these Britons would need about 22 years to save enough money to buy a property, comparing to four years in 1991 and eight years in 2001.