Year of the… pig? US and Chinese presidents' summit, with meat at the top of the agenda
China may be on the verge to clinching a takeover of US pork producer, which, if the deal goes through, will be the biggest Chinese takeover of an American company.
Chinese President Xi Jinping and US President Barack Obama meet for their first summit in California on Friday. The business world is looking for any signs of greater cooperation on trade and investment, especially the meat trade issue.

At the summit, the Chinese are eager to invest in the US, while the world's largest economy needs those investments to boost the economic recovery.

With demand growing China's biggest meat company Shaunghui International is looking to purchase top US pork producer Smithfield Foods for a reported $4.7 billion.

The deal still requires approval from the US Committee on Foreign Investment. Smithfield shareholders will receive $34 per share.

"Together, we will be able to meet the growing demand in China for pork by importing high-quality meat products from the US," Shuanghui said in a statement.

As the world's most populous nation is getting richer, the Chinese demand for meat is also increasing, which has driven imports sky high. Local meat firms are now switching their eyes abroad for partnership and acquisitions of foreign meat farms.

China bought in 25,640 tonnes of US pork in April, compared with nearly 32,000 tonnes a year before, according to the US Meat Export Federation.

Shuangui already controls China's top pork producer and believes the takeover will give the US company "the opportunity to expand its offering of products to China."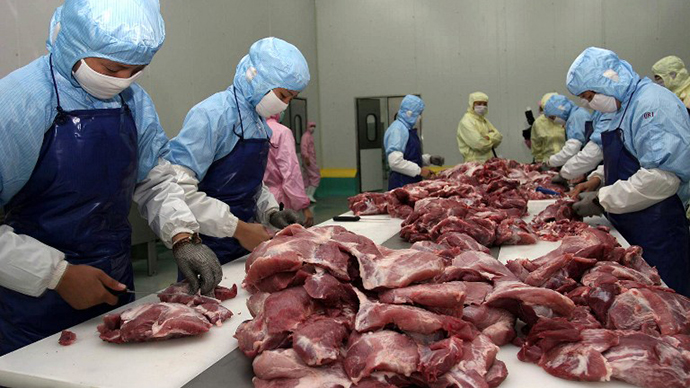 China has also been showing more interest in beef. Importing beef is much cheaper for the Chinese than breeding cattle, Reuters reports. Beef imports jumped in January-April to more than 75,000 tonnes, over 10 times more than during the same period last year.

"Farmers aren't breeding any more. It gives poor returns and they prefer to move to cities to work where they can earn 100 yuan ($16.30) a day, while a cow only earns them 3,000 yuan a year," Liu Chunsheng, sales manager at one of China's earliest beef processors Fuhua told Reuters. "The beef market is very scattered. There's not a single big company," Liu added. "It's to do with capital. This year everyone's losing money. Live cattle are expensive and imports are cheap. It's quite simple."

As China's demand for beef is growing fast, the US still hopes to set foot on the Chinese market. China currently allows beef imports from Australia, New Zealand, Argentina, Uruguay and Costa Rica. Four Canadian firms have been added to the list of authorized exporters. A deal has also been signed with India to import buffalo meat.

"If China opens its market to US and Indian beef, the growth rate (in imports) will exceed double-digits," Reuters quotes Rabobank analyst Pan Chenjun as saying.

Zhigang Tao, from Hong Kong University's School of Economics and Finance, spoke with RT about the relations between the US and China. He believes that the Americans can never get enough.

"I think the meeting is extremely crucial in building up trust between the two countries. To the Chinese people, they get the feeling it's always the Americans who are asking for more and more on the economic front. So, they are asking China to open up the market," he explains. "Once you open up the market they ask you to buy more US treasury bonds. With Americans constantly asking for more, you feel like an athlete – the better you perform, the more you have to deliver in the future. This is the feeling for the Chinese people. To me, China and the US, these two countries are like a couple. You don't really argue in front of many people, you should really argue in your own home. So, this meeting is really crucial for these two countries' leaders' building personal trust."

Another field of major Chinese interest in the US is commercial real estate. Just a few days after the Shuanghui International announced it would buy US pork producer Smithfield Foods came in the news of the reported $1.4 billion sale of the 50 storey General Motors tower in mid-town Manhattan. A group led by real-estate tycoon Zhang Xin acquired a 40 percent stake in the most expensive building in the United States, China Daily USA reports. The deal was closed on June 2.
Also behind the diplomacy, there's a range of prickly subjects between the two countries, with Washington accusing Beijing of launching a cyberwar. The accusations of cyber warfare have been mutual, and the US has openly accused the Chinese of cyber snooping on government entities as well as media outlets.

Many American media outlets -The New York Times, The Washington Post, and Bloomberg News- reported hacking on sensitive data in early February, 
The cyber espionage has also spilled over to US military and defense data. The US Defense Science Board publish a report saying that nearly 40 Pentagon weapons programs and almost 30 other defense technologies were compromised by Chinese hackers, some allegedly tied to the military or government.
In February US data company Mandiant reported it tracked 141cyber-attacks conducted by a single Chinese hacker group since 2006, 115 of which targeted US corporations.