Meat wars: Russia denies US meat ban is a revenge for Magnitsky Act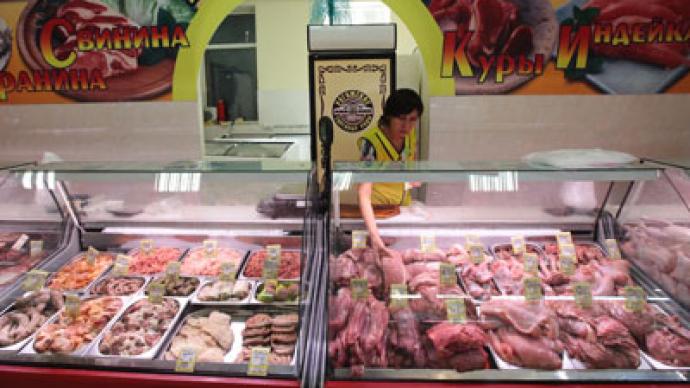 Russian authorities say restrictions on US meat imports have no political motivation. Meanwhile the argument is about to become another WTO row for Russia just months after it joined the organization.
The country's veterinary regulator Rosselkhoznadzor introduced stricter control of the food supplement ractopamine in meat imports last Friday. The move was announced the day after the US Senate approved the Magnitsky Act which imposes sanctions against Russian officials. Some analysts said the Russian move was linked to the Magnitsky Act, but Rosselkhoznadzor denied there is a direct link between the two events. The regulator claimed it announced the imminent ban on meat with ractopamine more than a year ago, sending official notification to the veterinary services in the US, Canada, Brazil and Mexico. The Russian regulator says ractopamine and clenbuterol food supplements are used for producing low-fat meat, but they can cause heart problems in humans. The move could jeopardize US meat exports to Russia worth $500 million a year, Reuters reports. The American suppliers will become less competitive compared with Chinese and European producers, where ractopamine is also banned. More than 210 shipping containers of US pork and beef worth $20 million were on their way to Russia, Reuters quotes the US non-commercial Meat Export Federation (USMEF). Also, the US Department of Agriculture has no testing or certification program in place for ractopamine, according to USMEF.For its part Rosselkhoznadzor introduced a transition period during which Russia will be testing each shipment without certification. "During this period the veterinary service of the suppliers have to create a system of laboratory testing of products certifying the absence of ractopamine," the regulator said.Meanwhile, US authorities have urged Russia to lift restrictions on the supply of US meat claiming they violate WTO obligations, the joint statement of f US Secretary of Agriculture Tom Vislaka and US Representative for Trade Negotiations Ron Kirk says.In November the European Union accused Russia of increasing protectionism and warned that it might submit a complaint to the WTO. Bloomberg reported Trade Commissioner Karel De Gucht as saying that Russia may face legal action as a result. The EU said that one of its biggest trade partners, Russia, unfairly levies fees on imported vehicles, unreasonably bans exports of live animals and makes it costly for the bloc to export hundreds of products, including wood. In response Russia accused the EU of violating WTO rules over its Third Energy Package and anti-dumping measures.