American debt puts couples off marriage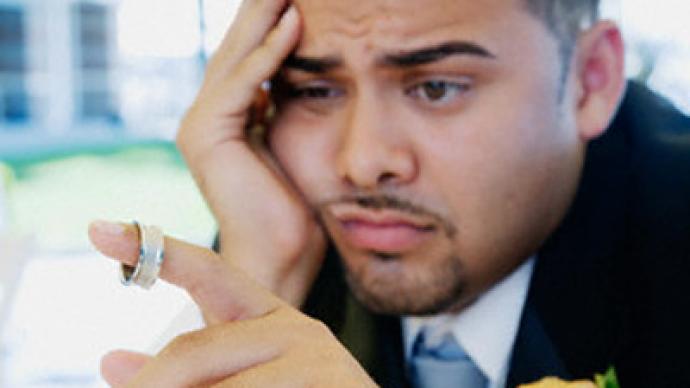 The economic recession has dropped the chances of women hearing wedding bells before the age of 25 to less than 50%, a US government report reveals.
The probability of a woman getting married by age 25 fell to 44 % from 59% in 1995, according to the report prepared by the Centers for Disease Control and Prevention.Also the median age of the first marriage increased both for men and women in 2006-2010, Bloomberg reports. Now the average age at first marriage is 25.8 for women and 28.3 for men.The study shows that more young Americans opt to cohabit with their partners as the number of women living with men without tying the knot almost quadrupled to 11% in 2010 from 3% in 1982."Despite high expectations that they will eventually marry, young adults in the U.S. are postponing first marriage," reports Bloomberg citing the CDC.Experts suppose the economic conditions and uncertainty in the future is among the major reason behind the trend. A recent study from the Consumer Financial Protection Bureau (CFPB) showed that student debt accounts for more $1 trillion and keeps graduates from buying a house or starting a family as it makes it harder for them to save money or to qualify for mortgages.Indeed, with a high unemployment rate in the country young people are more likely to have debt than a wedding ring by the age of 25.However, those graduates who postpone their marriage due to tight financial conditions could be cheered up by the data, which showed that highly educated people have longer lasting marriages. The study shows that 78% of women with at a bachelor's degree or higher have celebrated their 20th anniversary comparing to 41% of women with a high school diploma. Similarly, 65% of men with high education had their marriages last more than 20 years compared to 47% of the those who didn't go to college.
You can share this story on social media: