Ukraine gas payments: Russia 'reserves the right to act'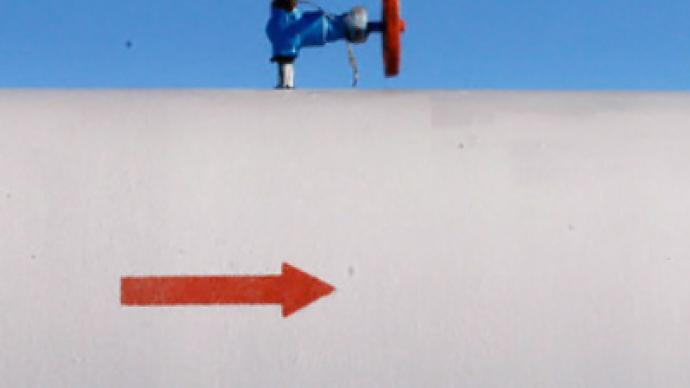 Prime Minister Vladimir Putin has reiterated Russia's position saying it reserves the right to act, if Ukraine fails to make gas payments, claiming Ukraine has enough money to pay for gas from its international reserves.
Speaking to the press on Monday the Prime Minister emphasized measures already taken by Russian gas monopoly exporter, Gazprom, to buttress the Ukrainian financial position.
"We're trying to come to an agreement with our Ukrainian partners, not by imposing sanctions, and working with private financial structures. Russia has also paid $2.2 billion in advance for transit, virtually providing Ukraine with a zero-percent loan. We hope the contractual obligations will be fulfilled. Russia reserves the right to act within the contract's conditions if these payments do not arrive."
The comments come amidst increasing concern about Ukraine's ability to continue to make payments for Russian gas, and the possible downstream implications for downstream consumers if Ukraine fails to make a payment. Ukraine and Russia have experienced a series of protracted contract disputes with the most recent leading to deliveries of gas to Ukraine, and also Europe, being halted last winter.
In recent weeks, Italian President, Silvio Berlusconi has indicated that he would propose that Europe provide some financial support for cash strapped Ukraine, so as to ensure continued delivery of gas to Europe, with EU Commission President, Jose Manuel Barrosso stating that Europe needs to act and convening a meeting of all parties involved in the Issue in europe.
With the bulk of Europe's gas imports from Russia crossing Ukraine, Alexander Nazarov, Senior analyst at IFC Metropol, believes it is likely that Europe may be able to offer support.
"Now it's quite difficult to tell exactly whether Ukraine will pay for Russia's gas supplies. It's obvious that Ukraine's economy is in a far worse situation than the Russian one, thus the country's Government could simply not have enough money. Talking about Ukraine's international reserves, Europe might really help the country considering Ukraine's earlier permission for Europe to control its gas transmission system."
Nazarov also noted that the prospect of another crisis over supplies affects Russia, and its perception as a reliable energy supplier. He adds that Russian support for Ukraine's capacity to pay for its gas indicates that Russia is keen to avoid another gas crisis.
"I think this time around we have just another series of threats that are not going to be implemented. In fact, January's conflict with Ukraine, when Russia stopped its gas supplies to the country, proved that these conflicts damage not only Ukraine but Russia itself together with the rest of Europe. Our country worsened its relations with Turkmenistan and saw its global reputation as a reliable supplier of energy damaged, let alone lower revenues and income from export taxes.
Furthermore, Russia's payment for transit in advance shows its willingness to come to some sort of consensus. Shortly, all these official statements are a mere political rhetoric to make people believe Russia is a master of the situation while, in fact, we could suffer the most."
You can share this story on social media: