UK Banks to pay $2bn bill for misleading insurance policy sales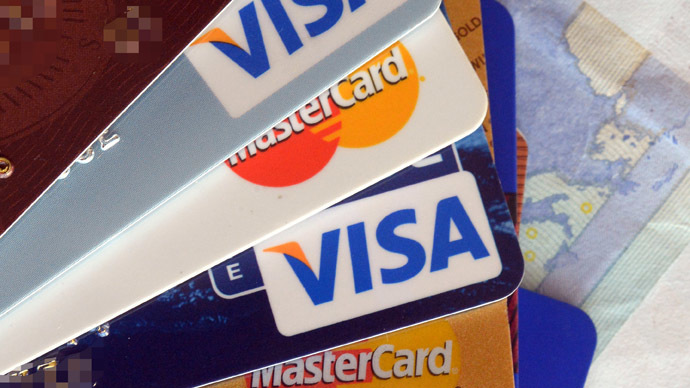 Britain's biggest banking names - Barclays, HSBC and Royal Bank of Scotland – have set up a fund to repay customers nearly $2 billion (1.3 billion pounds) in compensation for selling identity-theft insurance under misleading claims.
Contributing Banks


• Bank of Scotland

• Barclays Bank

• Canada Square Operations Limited

• Capital One (Europe)

• Clydesdale Bank

• Home Retail Group Insurance Services Limited

• HSBC Bank

• MBNA Limited

• Morgan Stanley Bank International Limited

• Nationwide Building Society

• Santander UK

• The Royal Bank of Scotland

• Tesco Personal Finance
The insurance company CCP Group 'greatly exaggerated' the risk of identity theft in order to sell more coverage customers didn't actually need.

In a statement issued Thursday, Britain's banking regulator, the Financial Conduct Authority (FCA), named 13 banks and credit card issuers which have agreed to the hefty compensation package, which will affect 7 million people.

The UK banks will reimburse customers who were falsely sold card protection and identify theft insurance by card-insurer CPP Group. The sum is in addition to 15.5 billion pounds the banks had set aside beforehand to reimburse customers for such anticipated oversells.  

"The involvement of the banks and credit-card issuers reflects the fact that they introduced customers to CPP's products and so must share responsibility for putting things right," the FCA said in the statement.

Along with CPP Group, the banks will help reimburse customers who were sold card protection and identity-theft insurance products under false pretenses of the card insurer.

The insurer sold over 23 million identity-theft policies with heavy exaggeration and overstatement between January 2005 and March 2011. CPP sold 4.4 million policies which generated 354 million pounds in profit, and later, an additional 18.7 million policies which yielded 656 million pounds.

In an effort to make their product more attractive to customers, the company also attached stickers to newly-issued credit cards that encouraged customers to buy identity-theft coverage.

The first tranche of policies are in question, and the FCA has said victims can expect to receive a step-by-step letter from CPP explaining the compensation process, which is set to be completed by 2014. Customers will receive their money back, plus 8 percent interest, the FCA said.

Before the banks can start refunding, customers will vote on the program scheme set forward by the FC.

Following a similar 2011 FSA-backed probe, CPP agreed to refund customers about 14.5 million pounds and pay a fine of 10.5 million pounds. The FSA also called for the stock to be halted for a two-week period on the London Exchange to sort out negotiations in February 2012.

You can share this story on social media: