Toyota to pay $1.1bn to settle safety lawsuit, as it seeks to regain goodwill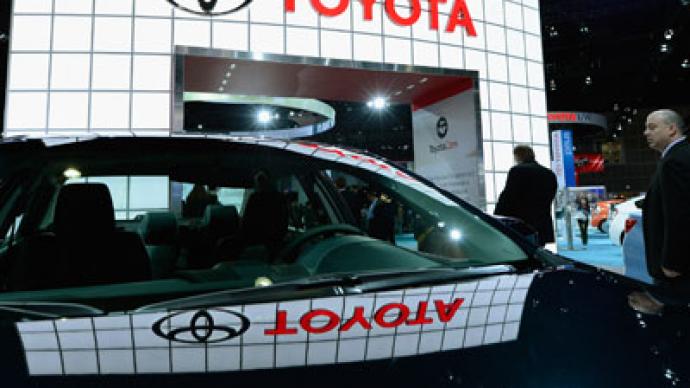 Toyota, the third largest carmaker in the US market, has settled a US lawsuit that blames the company for defects in the speed control system in its vehicles. The class action has been the biggest safety crisis in the Japanese company's history.
The key accusation is that millions of Toyota cars accelerate unintentionally, with the proposed settlement set to cover economic losses from possible safety defects in Toyota vehicles, not wrongful death or injuries, according to the Telegraph. Under the action, about 30 Toyota models sold in the US are affected, with the top-selling Toyota Camry midsize sedan and Corolla compact car on the list."This was a difficult decision, especially since reliable scientific evidence and multiple independent evaluations have confirmed the safety of Toyota's electronic throttle control systems," Christopher Reynolds, general counsel for Toyota Motor Sales, USA, said in a statement. The National Highway Traffic Safety Administration, the US safety regulator, together with NASA said there was no link between the reports of unintended acceleration and Toyota's electronic throttle control system. "However, we concluded that turning the page on this legacy legal issue through the positive steps we are taking is in the best interests of the company, our employees, our dealers and, most of all, our customers,"Reynolds added.The Japanese automaker has been suffering a reputation crisis since 2009. In August of that year an off-duty California Highway Patrol officer Mark Saylor and three members of his family were killed in a Lexus ES 350 that crashed at a high speed. Though a separate lawsuit over the death of the Saylor family was settled out of court, some other wrongful death and personal injury cases are still pending. Should the proposed settlement be approved a great part of the litigation over unintended acceleration will be finished, a person with knowledge of the remaining lawsuits who wished to remain anonymous told the Telegraph.In the six months after the Saylor family tragedy top Toyota executives, including its President Akio Toyoda, were questioned in a high-profile US Congressional hearing, where Toyota apologized to the public.Overall, Toyota recalled more than 10mn vehicles between 2009 and 2011 for reliability and safety issues.