TIRs stuck in queue on Russian-Latvian border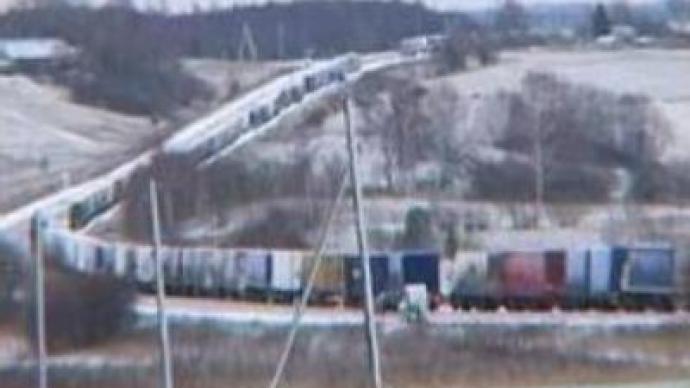 Truckers heading to Russia through Latvia have been facing huge delays at border crossings. They used to go via Belarus, but the new regualtions has made the drivers use checkpoints in Latvia, what has caused long queues.
Russia and Latvia have allocated funds to improve management of border controls and reconstruct existing border check points. However, visible changes are not expected until 2008 and the current the situation on the Latvian-Russian border is said to be a nightmare. A Lithuanian truck driver, Vitas Kontrimas, says
"there is no water, and as you can see it's impossible to drive out of the queue. The Latvian government promised to install WCs and waste containers. What should we do with the waste if there are no containers? There are WCs every 3 km, but we cannot run that far all the time."
Meanwhile, local residents have been pulled in by the government to help with the clean up. That is seen as an advantage by the locals, since they get an opportunity to earn some money. Freight has tripled since August when Belarus imposed stricter border regulations forcing drivers to change their routes and drive through Latvia instead. However, Belarus could be about to backtrack. The Latvian Director of Road Transport Department of Ministry of Transport comments,
"The Belarussians are working actively to turn the traffic in their direction. And if this happens the queues will disappear right away."
However, this will be little consolation for drivers already dealing with delays, discomfort and blistering cold.
You can share this story on social media: