Tangerine tug-of-war continues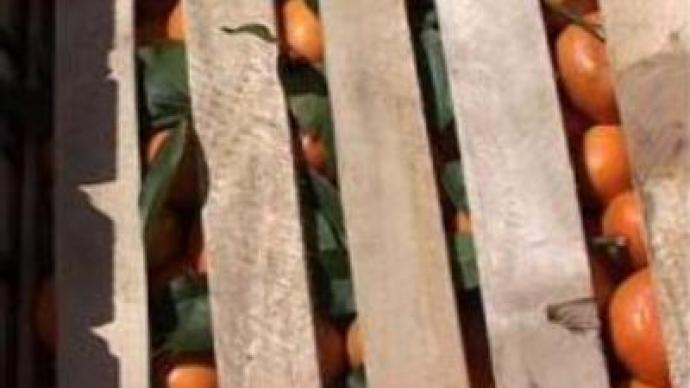 Truck drivers have blocked the road connecting Russia's North Ossetia and Georgia's breakaway republic of South Ossetia. They have been protesting over customs' refusal to allow their cargo of tangerines into Russia.
The checkpoint of Nizhny Zaramag on the southern Russian border is cordoned off by frontier troops. Armoured personnel carriers move forward ready to operate at any moment. The atmosphere is becoming heated. These people have stood behind the gates since 17th of December asking to be let in. Drivers tried to transport a large lot of tangerines from Georgia's breakaway republic of South Ossetia to Russia but hygiene inspectors refused to let them in. Last year Russian Agricultural Inspectors banned the import of Georgian foodstuffs, which reportedly didn't satisfy the quarantine requirements. But these people are not Georgians and they insist they have the right to do their work.
"Are we actually Geogian? We're Osssetian, we're from South Ossetia, we're Russian citizens! We do not work anywhere, we don't know what to do for living. We put so much money in it and now they say "take your cargo back",
the dealers complain.
The overwhelming majority of South-Ossetians are citizens of the Russian Federation. These dealers also carry Russian passports and drive cars registered in Russia.
However, Inspectors say tangerines do not grow in South Ossetia, and the consignment has been transferred from Georgia.
The drivers were told to wait for the results of a special inspection results but they are still waiting in suspense.The truck drivers finally lost their patience and after almost 3 weeks which started with such great expectations, moved to block the main road connecting Russia with Transcaucasia. Now passengers crossing the Russia-South Ossetia border have to pass the checkpoint on foot and take a taxi to continue their journey to the Georgia's breakaway republic of South Ossetia or Russia's North Ossetia.Fire-engines watch the border day and night. North-Ossetian officers are taking control of security on the border.
"The trucks are stuck in a dangerous zone. Avalanches can happen along the whole road from Russia to Transcaucasia. The snow level is not dangerous yet, but a crowd of people IS potentially dangerous,"
Vladimir Ivanov, the regional Emercom Officer, commentsSo far it's not clear how long the drivers will have to stay there, having to cook their frugal dinners throwing away their decomposed tangerines and making fires with the empty boxes.
You can share this story on social media: