Market Buzz: Stocks shaky on Syria
Published time: 27 Aug, 2013 06:13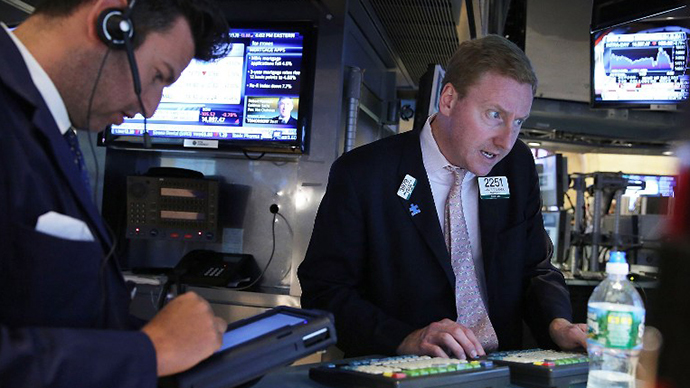 Russian floors could gain on high oil prices which have risen as the civil war in Syria heightens.
"Russia is winning from the high oil prices," Slava Smolyaninov, Deputy Head of Research at UralSib Capital, told Bloomberg.
High oil prices could carry equities in recovery from Monday's weak performance. The MICEX fell 0.3 percent to 1,386.63 and the dollar-based RTS dropped 0.3 percent to 1,324.03.
Gazprom, Russia's largest natural gas producer, increased 0.29 percent to 132.47 rubles and Lukoil, the country's second-largest oil company, jumped 0.11 percent to 1,942.62 rubles
Oil prices are rising on Syria woes, as well as an expected Wood Makenzie report later this week which will announce China overcoming the US as the world's largest crude importer.
WTI crude futures climbed 0.25 percent to $106.18 per barrel and Brent rose 0.29 percent to $111.05 a barrel.
Asian stocks have opened low on the escalating tension in the Middle East. Hong Kong's Hang Seng Index is down 0.91 percent, the Shanghai Composite fell 0.21 percent, and Japan's Nikkei tumbled 0.60 percent.
European markets may see some movement from German business climate data from the Munich-based Ifo, to be released today.
Amsterdam's Euro Stoxx 50 fell 0.16 percent, Germany's DAX is up 0.22 percent, and France's CAC 40 dropped 0.06 percent. London's FTSE 100 jumped 0.70 percent, following Monday's bank holiday. 
US stocks dipped after posting opening gains. At the close of US trading, the Dow Jones Industrial Average fell 0.43 percent, the S&P500 dropped 0.40 percent, and the NASDAQ slid 0.01 percent.