Daimler teams up with GAZ to spur Russian commercial vehicles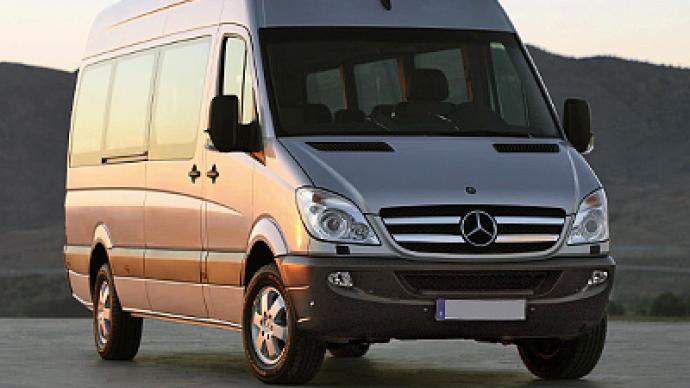 Daimler has selected GAZ as its Russian partner and is planning to invest more than €100 million producing the Mercedes-Benz Sprinter in Nizhny Novgorod
­At an official presentation attended by Prime Minister Vladimir Putin in Nizhny Novgorod the German auto giant announced that it was teaming with Gaz, controlled by Oleg deripaska's Basel group, in Russia. Daimler CEO, Dr. Dieter Zetsche, said the Russian van market offers great opportunities and emphasized that his company was looking at the longer term.

"Russia is an attractive place to invest with great opportunities for growth, and that's why Daimler has made a long-term commitment to it. The partnership with GAZ underscores once again the fact that Daimler has come to stay and to achieve further growth."

Depending on the outcome of a feasibility study the two companies plan to produce Mercedes-Benz Sprinter vans in Russia. Plans, supported by locally produced engines, transmissions, axles, and other components, which can be used Mercedes-Benz and GAZ product portfolio.  Sprinter output will be roughly 60000 per year. Sales and servicing is planned via the existing Mercedes-Benz dealer network with support from certain GAZ dealers.

AUTOSTAT analyst Azat Timerhanov said a tie up with GAZ was more logical than one with Kamaz with which Daimler also has close ties.

"GAZ already has enough experience for the production, sale and maintenance of light commercial vehicles, so the decision to choose Daimler as a partner is GAZ is quite logical.
GAZ conveyor is more suitable for the production of LCV, than manufacturing facilities of KAMAZ. In addition, as it became known, the implementation and maintenance of minibuses Mercedes Sprinter, assembling on GAZ facilities, is expected to realize through a dealer network of Mercedes-Benz in Russia. GAZ dealers will provide a support in this direction they've adapted to it and there is no need to establish a service-sales network from scratch."

Daimler estimates that the LCV market in Russia is about 117,000 vehicles per year, and the company reckons that market will grow to 275,000 by 2020. Volker Mornhinweg, Head of Mercedes-Benz Vans, said the potential size of the Russian market was a key part of Daimler's focus on the country.

 "For Mercedes-Benz Vans Russia remained an unexplored market. Our traditional markets are in Western Europe, Latin America, and North America. In Russia the market volume for midsized and large vans is about 117,000 units. By 2020 the market is expected to grow to approximately 275,000 units. That shows how important and right it is to be active in Russia. Together with GAZ we will put the optimal products for the Russian market on the road. To do this, Daimler will invest more than €100 million."

Siegfried Wolf, Chairman of the GAZ Board of Directors explained in his letter to Prime Minister Putin that this partnership is a milestone for the company with export benefits and optimization of output capacity

"The partnership with Daimler enables GAZ Group to load capacity and to stabilize the financial and economic situation, as well as developing its own engineering competence by bringing innovative technology from western countries. This project has export potential and It falls within the Russian Government drive to increase the automotive industry's share of the GDP. GAZ expects to create its own model on Daimler cars base in future"

Bo Andersson, President of GAZ Group pointed out extra advantages of the partnership

 "The cooperation will see GAZ´s existing LCV production facilities upgraded with employees receiving new training. All this will help to improve the consumer characteristics and the reliability of GAZ´ own models. It is expected that around 25,000 Sprinter vans will roll off the assembly line in Russia in a typical year. As GAZ and Mercedes LCVs largely target different customer groups, both companies expect to be able successfully develop in their respective market segments in Russia".