S&P downgrades Spain to just above junk status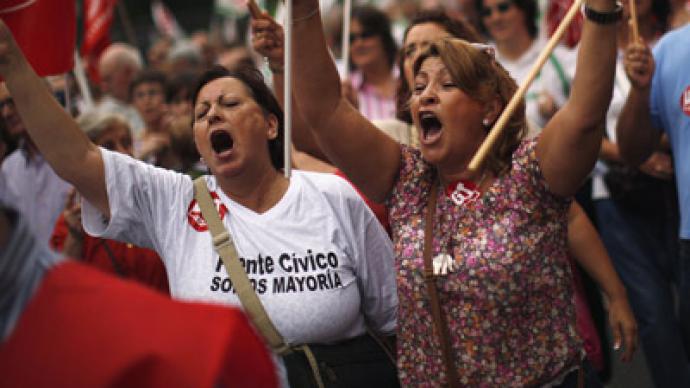 Spain's credit rating has been downgraded by American ratings agency Standard & Poor's by two notches, leaving it at the lowest investment-grade status, BBB-.
The Spanish government's options for averting a national financial crisis are limited by a grinding recession, high unemployment and social unrest, S&P said in a statement. The agency also assigned a negative outlook to the rating.Financial institutions were not at all surprised by such a development. "The Spanish government itself has come out and said, 'look, come 2013, our debt-to-GDP ratio is going to be approximately 91%,'" Margaret Bogenrief from financial advisory ACM Partners told RT. "Debt is growing. There is no internal growth within the Spanish economy to boost those GDP numbers.""So as far as everyone focusing on what the S&P and other rating agencies are saying," Bogenrief said, "I think they're actually reflecting the reality that the Spanish economy is not going anywhere good for the rest of 2012 and into 2013." It was predicted that the European bailout fund would help recapitalize Spanish banks without piling on more debt, but now, "any recapitalization plan will likely add more debt" to the central government in Madrid, the S&P statement said.Spain has not asked for outside help, for example a bailout from the European Central Bank. Instead, the government decided to deal with the deficit by introducing a number of austerity measures, causing popular discontent across the nation, where nearly one in four is unable to find work."The Spanish population has demonstrated that they are comfortable protesting and rioting these matters. I think you will see more riots, I think you will see more civil unrest, just like you see in Greece. At the very least, the Spanish economy needs 100 billion euro to get back on its feet, and as Greece demonstrated… you may need a second round," Bogenrief said.
You can share this story on social media: