South American presidents meet for Mercosul summit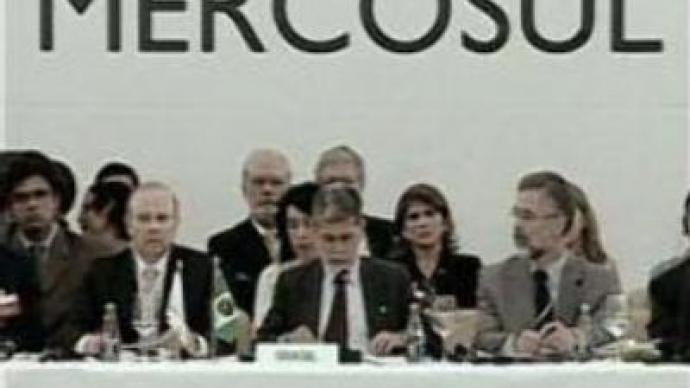 South American leaders have met in Brazil to discuss the future of the regional trade block Mercosul. All eyes, however, are on the Venezuelan President who has been accused of poisoning the summit with left-wing ideology.
Security was stepped up in Rio de Janeiro ahead of the two-day Mercosul summit.More than two thousand soldiers and police were mobilised to guard city. A warship patrolled the bay off Copacabana beech.Arriving for the event, the leftist Venezuelan President Hugo Chavez said unity among South American countries was top of his agenda.
"Integration brothers, the conscience that we are one nation, Rio de Janeiro, Caracas, Lima, Buenos Aires, we are of the same nation. South America is a great nation and we have to advance towards the unity of our republic,"
he stated.Some of Chavez's more moderate counterparts are uneasy with this kind of rhetoric, and don't share the Venezuelan leader's vision of a 'socialism for the 21st Century'.Mercosul is a regional trade agreement between Brazil, Argentina, Uruguay, Paraguay and Venezuela, founded in 1991 to promote free trade in the region. Five other South American countries are associates of the group, with Bolivia seeking full membership. Many South Americans believe the trade bloc has the potential to rival the European Union and the United States.However, it is feared that South America's left-wing deviation could jeopardise the core goals of Mercosul. Chavez proposes that the bloc shifts its focus from free trade to helping the continent's poorest people. Last week he announced plans to nationalise key industries in Venezuela, and is well-known for opposing US-backed free-trade pacts.It's still unclear whether Chavez's brand of aggressive socialism will succeed in redefining Mercosul, or put him on a collision course with other leaders in the region.
You can share this story on social media: