SocGen eyes Russia to offset Eurozone slump
Published time: 25 Sep, 2012 09:34
Edited time: 25 Sep, 2012 13:34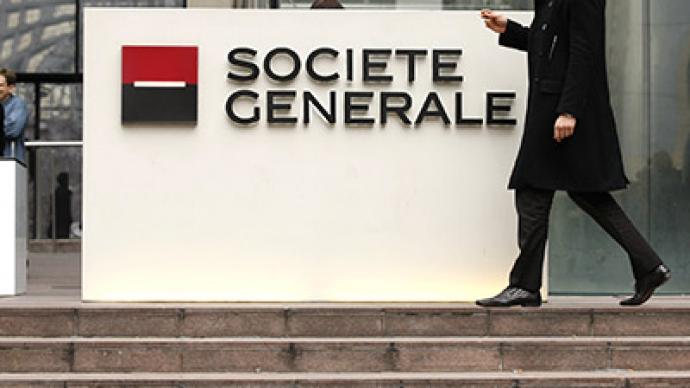 Societe General, France´s second largest bank, is set to increase its profits from retail businesses in Russia and Romania. This way the lender is seeking to offset the recent downturn, according to the Financial Times.
Net profit of Societe General Group went down 29.9% year on year in 1H 2012 to reach 1.165bln euro from 1.663bln euro.
"For me, what will be key is that at the end of 2013.[we] show that our international retail is delivering growth and more profitability than today, and that it's an advantage versus more exposure to the Eurozone," said Societe General CEO Frederic Oudea.
"Investors remain a little disappointed with core growth, particularly around the international retail business which is SocGen's differentiating asset, with Russia an important underperforming market and Romania also weak," Jon Peace, an analyst at Nomura bank, told FT.
In Russia, Societe General Group operates one of the country's top 10 banks by assets Rosbank and its subsidiaries Delta Credit and Rusfinance Bank. Retail banking is a key business for Rosbank. Currently the lender is on the list of the 3 largest banks in the retail segment and intends to hold that place, said Chairman of Rosbank Vladimir Golubkov, to Vedomosti daily.The bank's retail operations have so far grown 8%, reaching 193.6bln roubles ($6.25bln) in 1H 2012. And the number is due to grow to 18%, Golubkov added. "Household credit activity is quite high, in August we provided credit exceeding 12bln roubles ($387mln)," he concluded.
It's absolutely logical that Societe Genearl chose to focus on retail in Russia, says Andrey Maltsev, a deputy head of the board at Nordea Bank. Western banks get funding through interest payments, which gives them a competitive advantage over rival state banks, while in the corporate sector it's more difficult to compete, Maltsev concluded.
Tough competition from the state run Sberbank and VTB, remains an issue for Rosbank. In Romania, where the French group owns the country's second largest lender BRD, cutting provision for bad debt is the focus for Societe General, Oudea explained.