Slovenia to adopt austerity plan in bid to avoid bailout
Slovenia, one of the EU's most recent members, is struggling to avoid becoming the fifth eurozone country after Cyprus to ask for financial aid. The challenge for the Alpine country, once a model of socialism, is to prevent an international bailout.
Earlier this week, Slovenia's government revealed an austerity plan to raise €540 million in new taxes to balance the budget and avoid an international bailout.

"Everybody who has been in trouble in the eurozone in the last years in the first phase of the crisis always refused to admit that they are really in trouble. And that of course is first of all some kind of psychological game they are trying to play with the markets and with the public at large," Johan van Overtveldt, editor in chief of financial magazine Trends told RT.

"All the countries that came into the danger zone eventually had to ask for help which is something national governments don't like, because then obviously to a certain degree at least they have to answer to and to obey to foreign powers, be it the European Central Bank or the European Commission, the IMF or the three together in the famous Troika," he said.
The government is planning to partially privatize 15 state-run companies, including Slovenia's second-largest bank Nova Kreditna Banka Maribor, Ljubljana airport, Adria Airways airline and Telekom Slovenija communications operator.

The austerity plan must be approved by Slovenia's parliament and will be then handed to the European Commission, which is expected to discuss it later this month.

Slovenia, a nation of 2 million, is one of the 17 nations that uses the Euro currency. Government debt has seen eurozone nations Greece, Ireland, Portugal, Spain and Cyprus receive emergency loans, which Slovenia is attempting to avoid.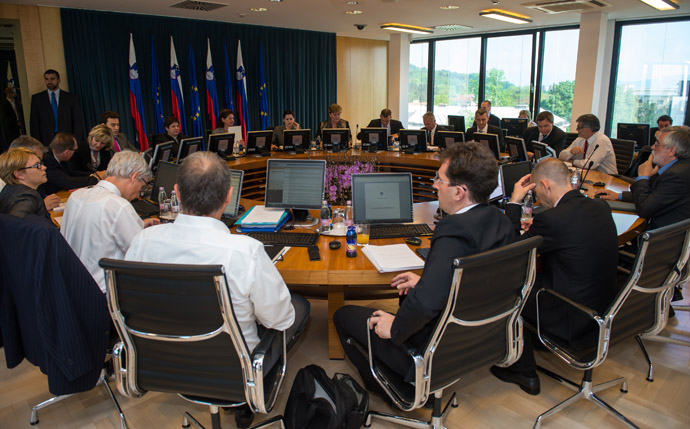 In late April, up to 2,500 protesters gathered in the Slovenian capital to protest against tax increases and public sector wage cuts. While unemployment in the country recently reached a 14-year high, many are still hoping that a bailout can be avoided

Five state-controlled banks – with an estimated €7 billion in bad loans on their books – are at the epicenter of Slovenia's economic crisis. The government is scrambling to find a way to support the banks and avoid a collapse of the country's entire banking system.

According to a document released on Friday, Slovenia plans to transfer €3.3 billion in bad loans, held by its three largest state-controlled banks, to a newly established 'bad bank,' due to open in June. In return, the three banks combined will be given state-guaranteed bonds worth €1.1 billion

The country's sales tax will increase from 20 percent to 22 percent, and the government is set to introduce further taxes next year.

"We are aware that tax increases won't have a positively impact on the economy and the recovery, but we have opted for the least harmful option," Prime Minister Alenka Bratusek was quoted as saying. "I believe this will satisfy the European Commission."

Slovenian Economy Minister Stanko Stepisnik explained that the government is planning to propose a temporary crisis tax on all incomes, which could be introduced at the end of the year. The government has been negotiating a public-sector wage freeze.

Slovenia has been in recession since 2011, with an unemployment rate of 13.5 percent. Slovenia's economic output is forecast to shrink 2 percent this year and 0.1 percent in 2014, according to the European Commission.

Last week, ratings agency Moody's cut Slovenia's rating by two notches to 'junk.' However, the Slovenian government managed to raise €3.5 billion from international bond markets in early May.

On Friday, the European Bank for Reconstruction and Development (EBRD) said that Slovenia's recession was likely to continue into 2014, with output set to shrink 0.9 percent next year following a forecasted 2.5 percent contraction in 2013.