Sky Express challenges Aeroflot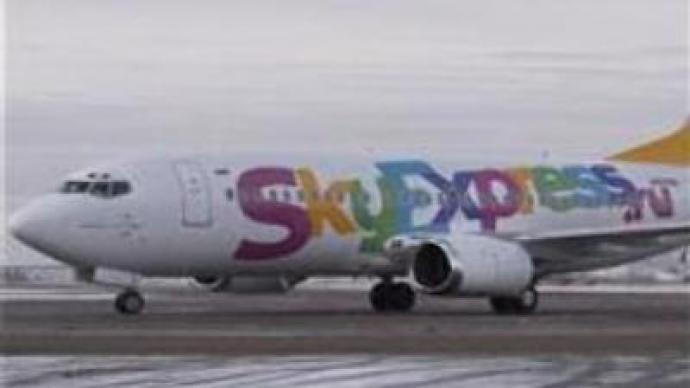 Russia's first budget airline launched flights on the top domestic Moscow – St. Petersburg route on Wednesday. This could finally kick-start competition on Russia's sluggish airline market.
The new Sky Express service to St. Petersburg costs from US$ 20. This is one third the price of a train fare, and one fifth the price of an Aeroflot ticket between the two cities.
"The price is so good I'm going to visit friends in St. Petersburg. I hope they start flying from there to other cities soon,"
said one of the first passengers."
Because of the price and because you pay only for the trip, not for food or drink,"
another passanger explained why he had chosen Sky Express.In an market full of inefficiency and arbitrary service, Sky Express has several innovations.
"We use only Boeing 737s, saving on maintenance as well as crew, and Russia's first electronic ticket system, which slashes running costs,"
said Vitaly Tereshchenko, Chief Executive of Sky Express.By the year's end Sky Express expects at least 400,000 passengers on the St.Petersburg route.
"Our goal is to make the nation mobile and attract people who could not afford to fly before, or had to take a slow train. This will boost the economies in the regions,"
unveiled Mr. Tereshchenko.But not everyone is convinced.
"Reservation is difficult and the company's website frequently crashes,"
another passenger warned.The Russian air market is still to reach maturity and analysts say the biggest risk Sky Express faces is complacency. Raising prices after initial success could fatally damage the brand.
"I think there is a good shot at succeeding. I think they should stick to their image as a low cost airline. Last year, all the airlines put together carried 30 MLN passengers, that's about one-third of the total population. And compared with European or American markets that is a very low rate. So there is much room for development,"
commented Anastasia Zhdanova, analyst from Broker Credit Service.Sky Express has heavyweight backers. The European Bank for Reconstruction and Development has provided a quarter of the US$ 50 MLN start-up costs. A large stake is also owned by oligarch Roman Abramovich, whose proven industry track record includes Hungary's Malev and Russia's number two carrier AirUnion. AirUnion is currently neck-and-neck with S7 in passenger numbers, but both are a long way behind Aeroflot. However, if Sky Express hits its three and a half million passenger target next year, Roman Ambramovich could strip Aeroflot of the number one spot for the first time in its history.It is fitting that Russia's low-cost air revolution should start at Vnukovo, Europe's fastest growing airport. Business and consumers are hoping Sky Express will finally see victory for price and quality travel across the world's largest country.
You can share this story on social media: