Uralkali and Silvinit post FY 2010 net profit of 16.65 billion roubles and 11.53 billion roubles respectively
Published time: 1 Apr, 2011 08:54
Edited time: 1 Apr, 2011 15:47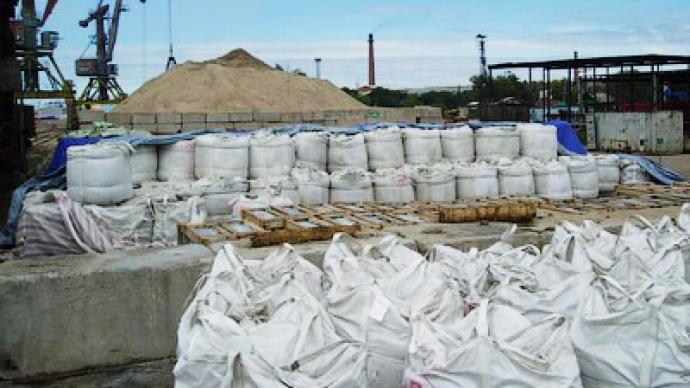 Soon to merge Russian potash fertilizer producers Uralkali and Silvinit have posted FY 2010 net profits of 16.65 billion and 11.53 billion roubles respectively under IFRS.
Uralkali's bottom line was 83% up year on year from the FY 2009 net result of 9.1 billion roubles, with Adjusted EBITDA growing 48% to 24.3 billion roubles, on the back of revenues rising 53% to 51.6 billion roubles from 33.8 billion roubles a year before.
Silvinit's net result was up 10% year on year, with EBITDA declining 14% to 18.3 billion roubles from 21.3 billion roubles for FY 2009, as revenues rose 16% to 39 billion roubles from 33.7 billion roubles in the same period of 2009.
Vladislav Baumgertner, Uralkali CEO, was upbeat commenting on the results and said higher commodity prices, coupled with a better demand mostly provided for improved financial performance of both companies.
"The recovery in crop commodity prices, followed by increasing fertilizer demand, allowed Uralkali to reach pre-crisis production volume levels in 2010, and the same is true for Silvinit."
Baumgertner was also optimistic about the coming merger of Uralkali and Silvinit, saying this would create Russia's potash giant with high growth potential.
"As the potash market continues to advance, both companies intend to increase their production assets further via investment projects and organic growth. Uralkali expects its production and sales to rise further this year after the proposed merger with Silvinit is completed. Once the regulatory approvals have been obtained and the merger has been completed, the combined company's production capacities and investment projects will enable the group to produce 13 million tonnes of potash in 2012. This will make it one of the global potash market leaders."
Anastasiya Sosnova, analyst at Investcafe, adds that this joint financial posting will become a guideline for final prices of the two Companies when they are merged.
"Comparative financials of the two companies that seem to be the same at the first sight will become decisive in the dispute about the prices of Uralkali and Silvinit that have emerged from the Companies' coming merger. Many people are still sure that Silvinit should cost at least as much as Uralkali does. At the same time the 2010 financial results say that Silvinit should be priced lower than Uralkali."