Greenback graffiti? Jack Lew's 'Slinky' signature likely to appear on US dollars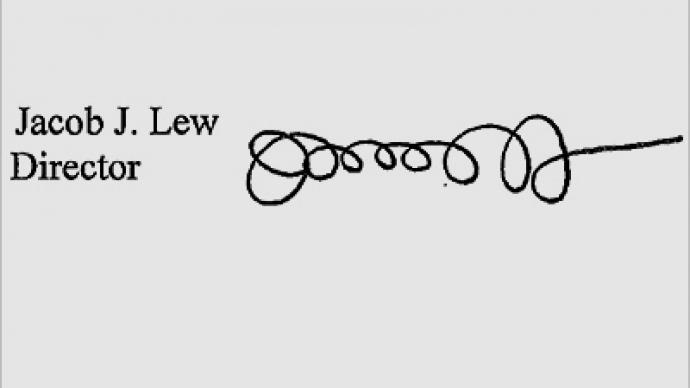 US citizens are mocking the 'ridiculous' signature of the newly-nominated US Treasury Secretary Jack Lewis. If he doesn't change his autograph like his predecessor did, Americans could end up seeing the squiggle on each new banknote.
Jack Lew's signature, which doesn't resemble his name at all, has been described as childish, "Slinky-like", "insane" and reminiscent of "one of those Crazy straws" by American bloggers and commentators, The Telegraph reports on Thursday. Twitter users also actively joined the discussion.Lew has been officially named by Barack Obama as the new treasury secretary on Thursday. In the United States the treasury secretary's signature appears on every banknote printed while holding the post.
At the rate we are printing money Jack Lew's loopy signature on the bills makes perfect sense.

— Saul Kaplan (@skap5) January 10, 2013
Treasury of the Secretary nominee Jack Lew has the laziest signature ever, and soon it will be on our money. aol.it/WRRyhH

— Ben Franklin, Esq. (@BFSEsq) January 10, 2013
Lew is currently White House chief of staff and previously served as the director of the Office of Management and Budget. The first document from which the blogosphere learned about his signature dates back to 2011, when a White House memo he had signed was circulated on the internet.A New York Times columnist suggested Lew might like to "clean up his penmanship for the greenback" before he goes up for Senate confirmation. That's what in fact the current US Treasury Secretary Timothy Geithner did – he had to change his autograph from his original signature when it was added to the storied list of those featured on the nation's currency.
Along with the wave of criticism, a petition has been launched calling for Lew's signature to be protected. A professional graphologist hired by the Washington Post maintained that, judging by his signature, Jack Lew just might be the cuddly type."Such strokes are common among those who prefer a 'softer' approach to problem-solving," the newspaper quotes Kathi McKnight as saying. She also concluded that the signature is similar in style to the handwriting of Princess Diana.
You can share this story on social media: