Share rollercoaster heads south again as RTS and Micex fall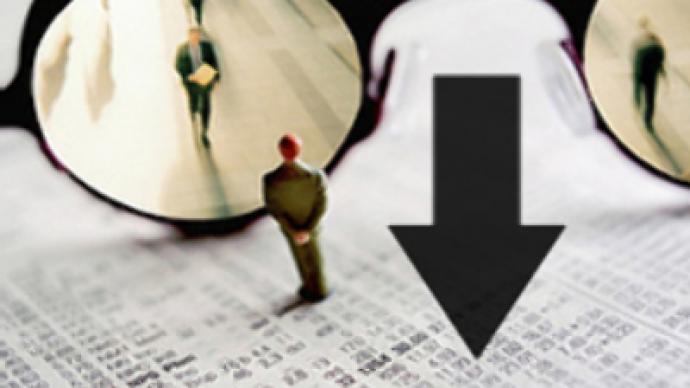 The one day rally in Russian shares came to an abrupt halt on Wednesday as Russia's stockmarkets slumped again, on renewed focus on the global economy, as opposed to the global financial system, with fears of a run on domestic banks adding to selling pres
Fresh from the announcement of further American steps to bail out U.S. banks, and as the Eurozone acted again to ward of further financial meltdown, Wednesday brought further gloom in Moscow. The immediate focus was oil, with Wednesday seeing Brent for November head below $72 BBL with Nymex WTI just above $76. The falls come in the wake of lowered demand forecasts by both the International Energy Agency and the U.S. Energy Department, and as the U.S. Commerce Department released data showing that retail sales fell in September by 1.3%, the biggest fall in 3 years. Russian energy majors Gazprom (down 8% on the Micex), Rosneft (down 6.5%) and Lukoil (down 11%) ended the day with major falls.

Adding to the gloom were falls in VTB (down 10% on the Micex) and Sberbank (down 13%). Despite the plethora of banking support measures brought in, both locally and globally, in recent weeks they were down after Merill Lynch noted Russia was 'flirting' with the credit crunch, and as reports in the Russian media suggested that Globex Bank was looking to prevent early withdrawals term deposits while Ekaterinburg based Sverdlovsky Gubernsky Bank was looking to impose a 20% surcharge on early withdrawals. The reports heightened concerns about a possible run on some smaller Russian banks with UniCredit noting;

"We are concerned that the bank run is just around the corner, and resolute measures are required of the authorities. An increase in the insured amount of deposits and statements that Russian banking system is very stable seem insufficient to calm the population and prevent deposit withdrawals. More radical steps, such as a countrywide ban on early withdrawal of term deposits (as seen yesterday in Ukraine) might be needed."

Norilsk Nickel was down 11% on the RTS but only 1.8% down on the Micex after coming back from as far as 13% lower in the last thirty minutes of trade for the day – with the RTS closing at 18.00 and the Micex closing at 19.00 Moscow time. This was in the wake of renewed infighting between major shareholders over its share buy back, despite 5% stakeholder MettaloInvest declaring that it wouldn't be selling its stake during the buyback. Other falls came from RusHydro (down 19% on the Micex), Avtovaz (down 8%), and Rostelecom (down 3.5%).

The sell off in Russia came after a mild fall overnight Tuesday on Wall Street with the Dow down just under 1%. That flowed through to Asia where the Hang Seng fell 4% with ASX down 1%, despite the Nikkei gaining after late afternoon rally in Tokyo. In Europe the FTSE, CAC, and Dax are down between 3 and 4% in early afternoon trade, with banking stocks up and resources down in London. This comes after the European Central Bank, the Bank of England and the Swiss National Bank agreed to inject a further $250 Billion into European money markets.
You can share this story on social media: