Saxo Bank opens up Moscow shop for the High Net Worth market
Published time: 5 Oct, 2011 15:50
Edited time: 6 Oct, 2011 17:15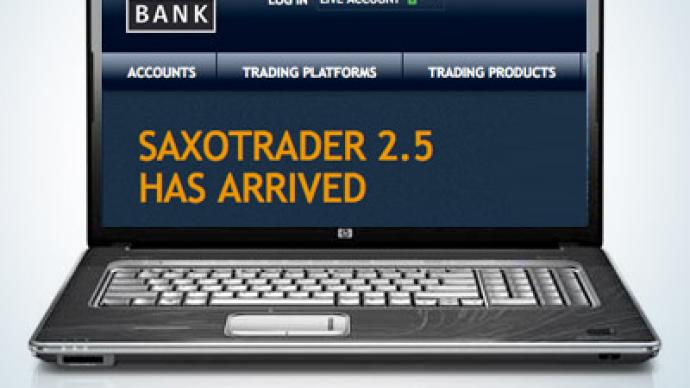 Danish based investment bank, Saxo Bank, has opened a representative office in Moscow, hoping to gain a slice of Russia's lucrative online trading and portfolio and fund investment markets.
The bank announced on Wednesday that with growing economic uncertainty, and more people wanting investment advice, and to take control of their own trading, it was a good time to provide Russian clients investment in the centre of Moscow. The new Russian representative office will be offering a platform that gives people the opportunity to trade themselves, while operations will be effected from Copenhagen.
Speaking at the opening press conference, Lars Seier Christensen, Saxo Bank CEO, said Russia was a good prospective market for Saxo Bank, with Eastern Europe, including Russia, accounting for about 12 – 14% of its total revenue, with the potential of the Russian trading and brokerage market a significant lure.
"Opening an office here in Moscow has been a priority for some time. We've been coming to Russia since 1996 and, I think, over these years there has been a lot of change in Russian for the better. Saxo Bank has also grown during this period from being a really small bank to a bank with more operations. There've been a lot of ups and downs in this country. The 1998 default was a major setback, but today if you look at Russia as being a part of the BRIC countries group that is expected to drive most of the world's economic growth,I think, it's clear that after ups and downs the trend is clearly an upward onein Russia and we want to be part of it."
Christensen, noting that international players have been more significant in leaving the Russian market, particularly for retail banking, said that Saxo Bank has always taken a different approach, and that recent years had actually seen it increase global expansion.He said the key for Saxo Bank was to focus on growth.
"Throughout this crisis we continued to open up office around the world, places like South America, Hong Kong, Dubai. We prefer to work in these growth areas rather than sit back in Western Europe and be concerned about the problems of that area. We rather get out and be part of growth in areas where growth is much more prominent than is likely to be in Western Europe in the next quite a few years."
He added that despite current market volatility globally, the shakeup was likely to lead to significant buying opportunities in the short to medium term future.
"I think, it's also important with that crisis is that in the next 18-24 months there will be the greatest investment opportunities of all time. Because what's also happening during a crisis is that general pressure on markets will create certain investment opportunities where you have companies, where you have real estate and other assets so depressed in price that they'll probably be the best chance to buy them at a low price then it's been seen for decades."
Christensen said the growing market sophistication of Russians would make the Saxo Bank trading platform quite popular.
"Our platform is very focused on this transparency by delivering things on – line, by delivering them in real time, by delivering sophisticated yet relatively simple products that can be used to really explore the benefits from almost any market environment."
­James Blake, Anastasia Kostomarova, RT