Russians saving more in dollars and euros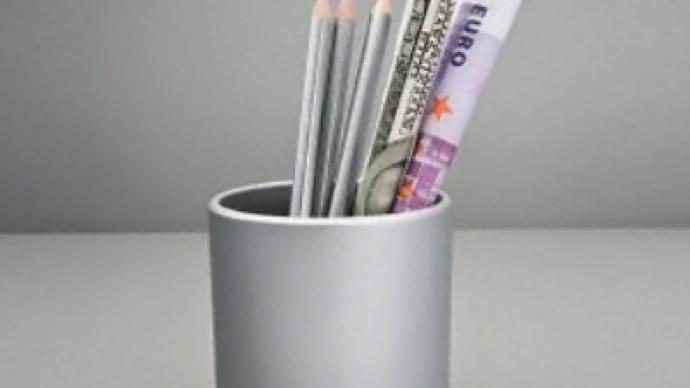 A survey of deposit market by the Deposit Insurance Agency shows that Russians are depositing more in Dollars and Euros despite falling rates, according to a report in Kommersant.
Foreign currency deposits in the Russian banking system have almost doubled the pre crisis level to reach 26.4%, with banks bringing rates for rouble deposits down over 2009 to reach an average of 5.6% in January 2010.
Andrey Melnikov, general director of the ACB said the by lowering rates, banks were attempting to lower the share of foreign currency deposits, which from October 2008 through March 2009, grew from 14.1% to 32.9%. However, Rouble volatility is forcing people to making deposits in more stable foreign currencies.
"When placing funds in foreign currency deposits, people first look at the dynamic of the currency rate. If they see stable growth, the rates become secondary. Now from a layman's perspective, the Rouble is behaving unstably, it's strengthening is not obvious, therefore foreign currency deposits haven't lost their attractiveness despite the low rates."
Melnikov added that the boom in foreign currency deposits is creating excess foreign currency liquidity.
"In connection with the lowering of the Rouble rate, people preferred to shift their money from rouble to foreign currency accounts, which resulted in an excess of costly currency liquidity, which was impossible to place with an adequate profitability into currency credits."
Ilya Zibarev, deputy head of retail at Alfa-Bank, says that the high demand for foreign currency deposits is not being matched by a similar high demand for foreign currency credits.
"Banks use money received from depositors for crediting, and of course, they prefer to give out credit in the same currency that they receive the deposits, but demand right now for currency credits is practically nil."
Igor Antonov, director of development of retail products for OTP-bank says that for banks, this type of situation causes rising costs.
"When there is no demand for foreign currency credits, banks start seeing additional expenses, because they have to convert foreign currency deposits in order to issue credit in Roubles.

Vice-president of Transcreditbank, Victor Zemskov, agrees the phenomena also leads to higher costs.
"Buy-sell transactions in foreign currency are connected with currency risks which have to be hedged, which makes the cost of currency resources significantly higher than rouble ones."
Mikhail Zadornov, board chairman at VTB-24, adds that foreign currencies converted to roubles also become more expensive.
"As a result, the cost of Roubles brought in with the help of foreign currency deposits increased around 13-15%."
You can share this story on social media: