Russian stocks fall again as global markets fail to lift siege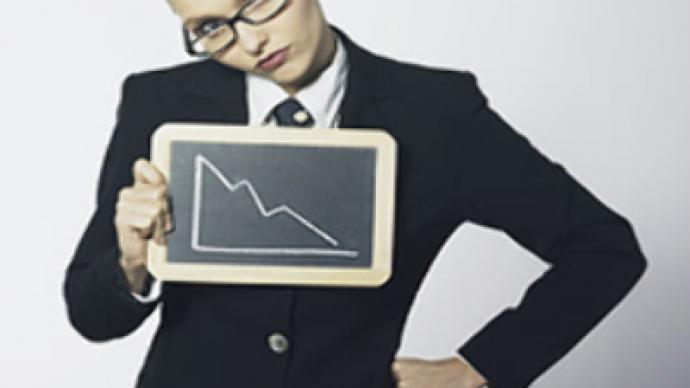 The unremitting gloom surrounding global equities continued unabated on Tuesday, with the RTS and Micex in Moscow adding a further 1% to their recent slide. Considering events both before and during the day, Russian investors could have good cause to fee
Tuesday trade was delayed until 13.00 Moscow time in the wake of overnight falls on Wall Street, and continued sell offs afflicting Asia. The Dow finished Monday more than 3% lower, and below the 10,00 mark, but this was after a late afternoon rally which brought it back from nearly 7% down. The Nikkei and Hang Seng fell 3% and 5% in the wake of the falls in the U.S. Some relief for investors came from the Reserve Bank of Australia which slashed overnight rates by 1000 Basis points or 1% and engendered some hope that a coordinated global response by the worlds central banks may be in the pipeline. Sydney finished the day 1% higher and the news helped take some of the sting out of losses on other exchanges.
The FFMS suspension of trade in Moscow turned attention to Europe where early trade saw the FTSE 100, Dax and CaC continue to fall with financial stocks again bearing the brunt of selling. In London reports that the Royal Bank of Scotland had approached the British Government about a capital injection shredded much of what little investor confidence remains in British banking, and ended with RBS down more than 39%, HBOS down more than 40%, Lloyds TSB down 12%, and Barclays down 9%. Despite these financial selloffs, the FTSE 100 managed a minor gain on the day, on the back of gains in energy and resources, as did the CaC in Paris, where another embattled financial, Dexia, stood out with its 13% slump, with Commerzbank (down 14%) and Deutsche Bank (down 8%) leading the Dax lower in Frankfurt.
Against this background the trading delay announced by the FFMS in Moscow possibly prevented further panic. It did enable investors to digest news that the Russian government was adding $36 Billion (950 Billion Rubles) to domestic banks to add liquidity. When trade commenced it was volatile, with moves higher and lower for both the RTS and Micex (which at one point was more than 7% lower). The 1% falls on the RTS and Micex could have been much worse.
At the end of the day on the Micex, VTB was up more than 4% with Sberbank up more than 2%, and Lukoil and Rostelecom making minor gains. On the downside Gazprom finished nearly 3% lower, with RusHydro down 6%, and Norilsk Nickel losing a further 7.5%.
In Tuesday trade in New York, stocks have again fallen despite the Federal Reserve unveiling new measures which will include buying short term debt instruments directly from companies, enabling them to move around the frozen banking system. Federal Reserve Chairman, Ben Bernanke, also indicated that further interest rate cuts may be in store in a speech in Washington. Despite the announcement Banking stocks have again been hit, with Bank of America more than 20% lower, Citigroup down more than 7% and JP Morgan Chase down more than 6%.
You can share this story on social media: