Russian stocks end tumultuous week on a high note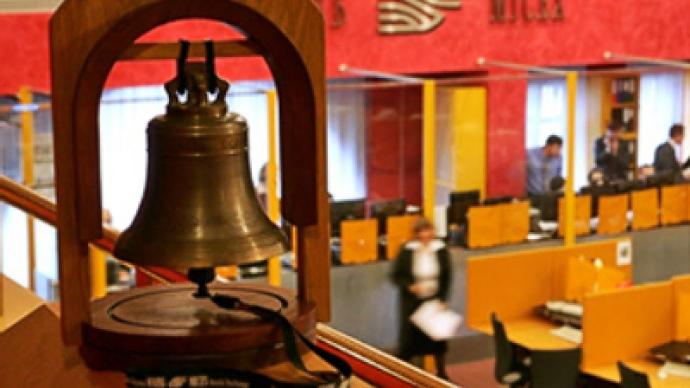 After being closed on Tuesday afternoon, and then again from lunchtime Wednesday until Friday morning, Russia's stock exchanges powered to a Friday close which saw the RTS 22% higher for the day.
A manic day's trade on Friday saw both of Russia's exchanges closed twice for breaching upper limits on trade. Once between 12.00 and 13.00 after stocks jumped more than 15% in the first hour, and again from 14.00 until 17.00. In a final session both exchanges moved higher still.
On the Ruble denominated Micex, gains across the board were highlighted by Russia's major banks, VTB and Sberbak, which posted gains of 59% and 35% respectively. Also up were energy majors Gazprom (up 28%) Lukoil (up 27%) and Rosneft (up 46%), along with RusHydro (up18%), MosEnergo (up 32%) and Avtovaz (up52%). The only negative sentiment came from Norilsk Nickel, which gained only 8%, and RosTelecom which actually fell 11%.
The frenetic surge was in stark contrast to the sell off which swept the markets on Tuesday afternoon, after borrowing rates doubled on the interbank market, and caused a cessation of trade late in the day, with a further halt triggered on Wednesday.
During the halt the Federal Financial Markets Service, and the two exchanges conducted a reconciliation of repo trades which hadn't been cleared during the sell off. At the same time the Finance Ministry unveiled steps to ensure liquidity in the system, including $45 Billion channeled through Russia's three largest, state owned, banks Sberbank, VTB and Gazprombank. Also during the halt the Government announced a range of other measures, including tax relief for oil production, spurring sentiment in energy stocks which comprise the bulk of Russia's stockmarket.
At the same time global sentiment underwent similar wild swings with major sell offs in Europe, the U.S. and Asia, in the wake of renewed concern about a possible seizure of the global financial system, on Tuesday and Wednesday. The on Wednesday and Thursday major global central banks coordinated the injection of an estimated $247 Billon into the global financial system, with Friday bringing further news of a clampdown on short selling which had been blamed in part for the collapse of Lehman Brothers and sale of Merrill Lynch, along with the U.S. Federal Reserve's de facto takeover of insurance giant AIG.
This saw global stocks rebound strongly on Friday, along with their Russian counterparts, and major gains being posted in Asia, Europe, and North America.
You can share this story on social media: