Russian President says no to Ukraine agreement amendments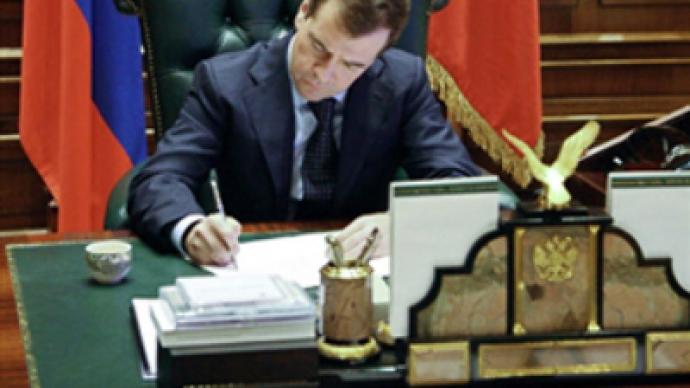 Russian President, Dmitry Medvedev, has ordered the federal government not to fulfill the gas transit protocol until Ukraine drops certain clauses to the document which have not been agreed with Moscow.
Foreign Minister Sergei Lavrov informed Dmitry Medvedev that the protocol on international monitoring which RUSSIA and the EU signed on Saturday was signed by Ukraine, but along with the signature, Ukraine provided a certain declaration of amendments.
Lavrov said those amendments stipulated Ukraine did not syphon off any gas going to Europe, and "half of it contradicts the document Russia signed with the EU".
Medvedev called the amendments a mockery of common sense and a violation of earlier agreements.
"Those who signed the agreement adding some amendments should realize that this document is invalid. That is why I order the government not to fulfill the agreement with the EU signed on Saturday.
I ask you Mr Foreign Minister to inform our European colleagues that they find themselves in a very difficult situation.
We ask them to convince Ukranian authorities to drop the amendments which contradict the original text of the agreement. As soon as it is done, Russia will have no objections to the deal."
After the Presidents comments, and speaking on German TV, Russian prime Minister Vladimir Putin outlined the cost to Gapzrom of the dispute.
"Gazprom loses most from the cut gas deliveries to its partners. During these days when the gas transit through Ukraine was cut off, Gazprom lost about $800 million US dollars. Gazprom was forced to halt the work of over a hundred wells. Fortunately it hasn't led to any technological consequences, but the company's image has been damaged, as you've already noticed. But we are doing all this not only for the benefit of Russian side, but mostly in the interests of the European consumers. I want the European consumers, the citizens of the European Union be aware of this and understand this well. Because the European consumers are first of all interested in the reliability of a supplier."
You can share this story on social media: