​Arctic crude becomes new Russia's oil blend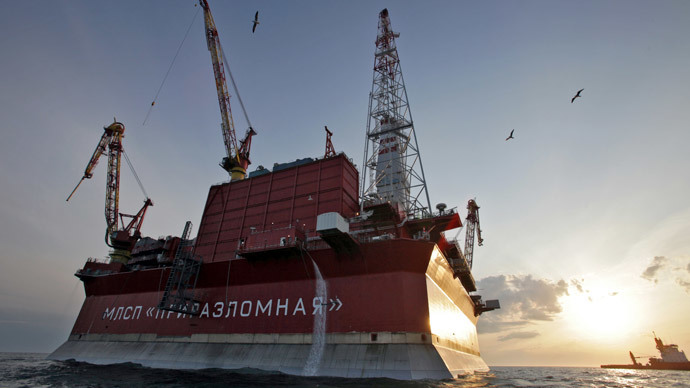 Gazprom has unveiled the new Arctic crude blend called ARCO. It comes from the Arctic field in North-West Russia. The oil will cost less than the main Russian export Urals blend, as it's quality is lower.
The new ARCO blend extracted from the Russian shelf debuted on the world market on Friday. The first consignment of 70,000 tons will make its way to one of the largest European energy companies, Gazprom said in a statement, without disclosing the customer. After increasing the production volume from the Prirazlomnoye field, part of the crude will be sold on the basis of long-term contracts.
"With the Prirazlomnoye deposit in the Arctic shelf, Gazprom opened a new stage in the development of the Russian oil industry. The first oil from Russia's Arctic shelf, the first oil from Prirazlomnoye deposit has been loaded and will be delivered to consumers. The first shipment also marked the start of the process to return investment in the Prirazlomnoye deposit," Gazprom chief executive Aleksey Miller said in a statement.
"Today's event has a large significance for the strengthening of Russia's position in the global oil market," the CEO added on Friday.
The quality of the oil, branded ARCO for Arctic oil, is poorer than that of Russia's key Urals export blend. It means that prices will be lower than Ural's, said Grigory Birg, an oil analyst at Investcafe.
The Prirazlomnoye field was discovered in 1989 located in the Pechora Sea, south of Novaya Zemlya, Russia, sitting 60 kilometers offshore. The field holds 72 million tons of recoverable oil. Production started in December and is expected to reach 6 million tons a year sometime after 2020. The development of the field is based on the single stationary Prirazlomnoye platform, which is the first Arctic-class ice-resistant oil platform in the world.
You can share this story on social media: