Russian food producers look for bigger slice of local retail market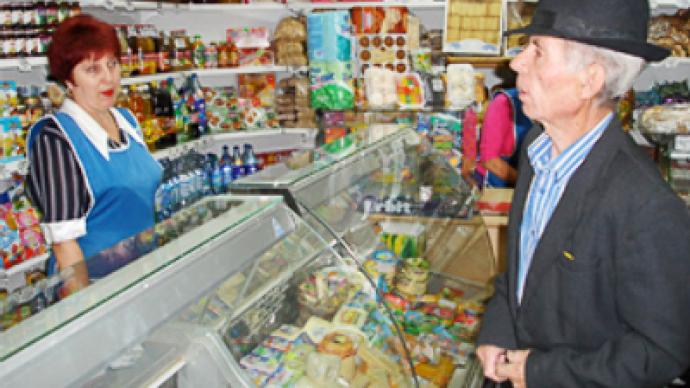 Russian producers are stepping up their efforts to sell to local supermarkets. First quarter results show food retailers are doing well, But producers say they can't get a foot in the door without state help.
Russian producers would eagerly sell to supermarkets – but retailers demand listing fees, for the right to put a product on their shelves. As well as financial payments, farmers find it hard to meet tough criteria for quality and packaging. Vadim Dymov, a sausage producer, says primary producers in the food sector face tough times without state help.

"Producers are unable to control the price tag that consumers see on the shelf. To escape the pressure from food chains local producers were forced to set up their own shops. The government needs to step in and regulate relations between producers and food chains. We need clear rules of the game."
Pascal Delval, the local Purchasing Director of French hypermarket Auchan, says 80% of what they sell is already local – but he wants to source even more.
"It's our target to enlarge our sourcing portfolio of local producers. We decided to create a national direction, which will be in charge of these regional suppliers, to help them to grow and to become national, and why not, international."
The Russian government already uses tariffs to encourage the use of local produce – but now wants to back them with laws, aiming to boost import substitution according to State Duma Deputy, Natalya Ermakova.
"Russia has to decrease its dependence on imported food. Domestic producers are asking for governmental regulation in the sphere. The State Duma will get the draft resolution in October. I expect we will finish working on it by the end of the year."
Russia's food sales grew some 30% in the first quarter of 2009, shrugging off the economic slowdown.
Viktoria Grankina, Analyst at Troika Dialog says the country remains largely uncovered by food chains, despite the massive expansion of recent years.
"About five retailers have quite a small market share. Last year we estimated it to be about 11%. This year we think that they can grow the market share to 13.5%, which, obviously, compared to European levels is still very low."
While some foreign chains like the Sainsbury's and WalMart have their eyes on Russia, those already present continue to open new stores. When cash is king and loans are hard to get, cost-cutting is the main driver of growth. Especially in the world's biggest country, where transportation is a major expense, buying from locals fits the bill.
You can share this story on social media: