Russian car market soldiers through the doldrums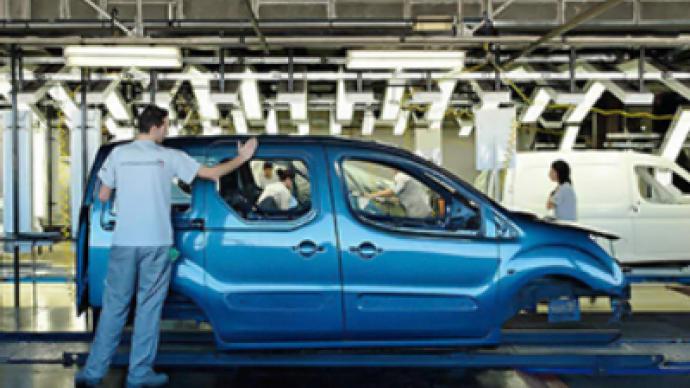 The slump in Russian car sales has seen dealers and producers bring in a range of measures to keep customers buying but the short term outlook remains bleak, although there could be an upside over the longer term.
The Association of European Business (AEB) in Russia estimates that Russia's car market has slumped about 50% in the first five months of the year. In the wake of an economic downturn which has rocked the Russian economy, the recent cars sales boom in Russia – which had led to forecasts of Russia becoming the largest car market in Europe within the next few years – have been brought to a screeching halt.
The brakes come on
Chairman of the AEB Automobile manufacturers committee, David Thomas says that the economic downturn has affected sales in four major ways "the restricted availability of credit, high loan interest rate, Rouble devaluation and increased customs tariffs," adding that these have actually combined to make the prices of imported cars more expensive in Rouble terms.
Carmakers have responded with the introduction of a range of discount moves aimed at clearing backlogs of 2008 production and also retaining the interest of buyers. Toyota made June 'green month' with discounts of up to 15%, Nissan has slashed more than 300,000 Roubles off some of its models, Citroen has matched that with a 30% discount on some of its models, and Chrysler has slashed prices on some of its, to name but a few of the offers available. The downturn in sales has also been met by an increase in the number of automakers providing credits for buyers, in the wake of a slump in consumer lending by financial organizations due to the credit crunch. The Russian government has also stepped up to the plate with support packages for the industry as well as incentives for buyers.
Despite these steps almost nobody is forecasting a sudden turnaround in the fortunes of the auto industry. But the decline is at least starting to slow, according to David Thomas of the AEB.
"May showed a further decline in the market of -58%, -47% for the first five months if compared with the same period last year. There are some signs that the pace of decline in the Russian market is slowing but there is still considerable variation between individual segments."
The longer term outlook is for a rebound that will be long and slow according to Igor Korovin, CEO of the Russian Association of Automakers, with a return to last years figures possibly as much as 3 years away..
"Today Russia's automobile market is almost 60% down, but I think, by the end of 2011 or, at least, the beginning of 2012 Russia will come back to 2008 figure that is around 3.2 million cars a year."
Ford PR Director Ekaterina Kulinenko, says the company is expecting a major decline in sales, but that the increased production in Russia will cushion Ford from some of the impact.
"It's obvious that the market is weakening and for 2009 we expect a 50% fall with the total sales of 1.4 million cars. This year about 60% of our sales will be of cars manufactured in Russia at Vsevolzhsk plant near St. Petersburg. It has become too expensive to import cars, mostly because of the increased customs dues and a falling Rouble."
She adds that the company, having cleared its 2008 stocks is concentrating on marketing, with the focus being on providing effective credit for customers.
"Today we are concentrating on two major fields: better credit terms and new marketing programs to attract clients. People now are very much afraid to taking any sort of credit as the Rouble is weakening. Our improved credit terms include an interest rate of 2.9% a year, which is quite small actually. As for our marketing programs, we try to distinguish ourselves from lots of those of our rivals, and I think people are getting lost in them, by nominating exact prices for the most popular models as Ford Focus, for example. This policy of transparency will let our clients know exactly what they are going to receive in return for their money."
Light at the end of the tunnel
The biggest downturn in sales has been experienced by imported cars, with the governments support measures targeted at local producers. The AEB's Vice Chairman of the Automobile Manufacturers Committee, Martin Jahn, believes that the support steps should be expanded to include all carmakers operating in Russia, not just those producing the cheapest models.
"While the government has announced some measures to stimulate demand, these should be extended to provide Russian customers with a broader choice of models including all those manufactured in Russia. Further measures to generate demand are also necessary."
Domestic production, which had been hammered as Russian car buyers turned to imports en masse over the last 5 years, is coming back into fashion, with both increased cost sensitivity from buyers and also a far greater range of producers establishing operations in Russia. Igor Korovin says this underlines the importance of turning around Russian carmaking.
"Imports are actually going down and that's mostly about cars older than 5 years. In fact, Russian cars should comprise at least 70% of the market. So we need to build new car manufacturing plants together with all necessary infrastructure. It could be possible by mid 2010 with the investment starting to bear fruit in 2 years."


Business RT: Anastasiya Kostomarova, James Blake
You can share this story on social media: