Russian combine harvester makers get safeguard duty protection
Published time: 26 Dec, 2012 10:26
Edited time: 27 Dec, 2012 16:39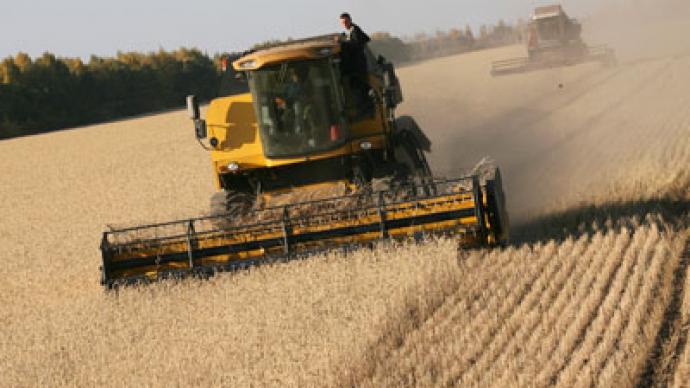 Russia has imposed a WTO acknowledged duty on imported agricultural machinery to protect domestic manufacturers suffering from changing situation on the world markets. After joining the WTO Russian makers saw their profits fall 360%.
The Eurasian Economic Commission (EEC) of Russia, Belarus and Kazakhstan said it was introducing a special additional preliminary safeguard duty of 27.5% on the import of combine harvesters to the Customs Union, Vedomosti daily reports.
"In the course of an investigation some critical situations have been revealed, and a delay in imposing the safeguard duties would lead to serious damage which would be difficult to neutralize later," said Andrey Slepnev, a Minister for Trade at EEC.
The decision is set to become effective in 30 days and remain operational till July 5, 2013. With the safeguard duties introduced in all the EEC the protection will be granted not only to Russian agriculture machinery makers, but also Belarusian and Kazakh producers.
The investigation into the issue was started in July, 2012, before Russia joined the organization.
"The measure was needed because of the negative developments in the world market since 2009, and is not connected with Russia's accession to WTO or the situation after it," an EEC representative told RT. The measure is widely used by all WTO members.
A similar Russian investigation for imports of combine harvesters in 2008 resulted in a tripling of duty to 15%.
Russian producers of agricultural machinery were among the hardest hit by the country's entry into the WTO, says Konstantin Babkin, a co-owner of Russia's Rostselmash, one of the world's biggest producers of agricultural equipment. With Russia becoming a full WTO member import duties on combine harvesters had to fall to 5% for new vehicles, with the figure on used vehicles nose diving 80%, according to Babkin. Russia's agricultural machinery makers were the hardest hit by accession to the WTO, he added.
This made the Russian market much more attractive for foreign producers, with imports jumping 92.3% year on year in 1H2012. This compares to a 19.9% increase between 2009 and 2011. Russian domestic production of combine harvesters was down 14.4%, with the sales dropping 43.4% and the bottom line shrinking by almost 80 per cent.
Some other protectionist measures like state support, cheaper borrowing or stimulating exports should also be introduced, Babkin concluded.
The USA and the EU are the key suppliers of agricultural equipment to Russia.
Experts have long been warning against the damage WTO membership could bring to Russia's most vulnerable industries – like automotive, agriculture, forestry and light industry. The government plans to spend more than $1.47bn in 2013 – 2015 to back fragile industries.