Russia – South Korea trade ties look beyond energy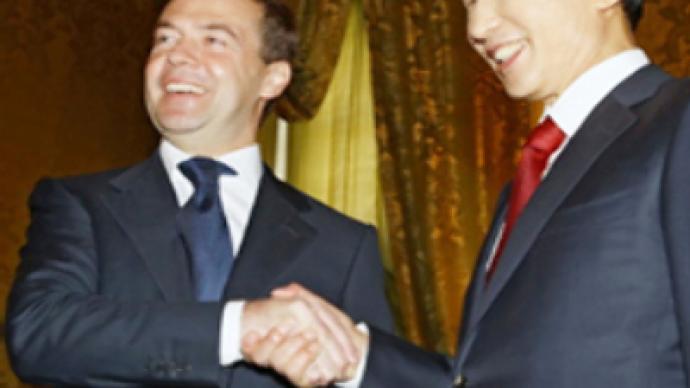 Russia and South Korea are to launch a joint trade assault on world markets – that's one view expressed by their Presidents when they met in Moscow on Monday. Business leaders from both countries signed more than a dozen agreements, including
It's his first time in Russia as Korea's president – but in his previous job, as head of the construction company of Hyundai, he was a frequent visitor. This time Lee Myung Bak, President of the Republic of Korea came to secure closer cooperation between the countries – with energy projects at the top of the list.
"Mr. Medvedev and I have agreed to cooperate in the development of the West Kamchatke shelf. South Korean businessmen will help develop Siberia and the Far East. We will also search for ways to deliver Russian natural gas to the Korean Peninsula."
Some experts say that Russia-Korean trade is still weighted towards energy. Dmitry Medvedev, however, sees broader potential.
"Our trade and economic relations include not only energy cooperation, but a whole range of issues like car making. We welcome South Korean companies willing to take part in construction of venues for the APEC summit, we are going to work jointly in such spheres as fishing and transportation, as well as developing railways."
South Korean companies have been investing vigorously in Russia. Hyundai Motors and Samsung electronics are building manufacturing plants and Lotte Group is constructing a large hotel in downtown Moscow. Now its time for more challenging projects
Keeping in mind the Russian saying that one brain is good, but two are better, Russia and South Korea are mulling the construction of three new Silk routes. One would link the Pacific region and Europe, another would focus on joint resource exploration and the third, the green route, would develop agriculture.
Since the establishment of diplomatic relations in 1990, Russian-South Korean trade turnover has soared from less than a billion to an estimated 20 billion dollars this year. Not content with their own markets – the two countries are now planning a strategic assault on Asian and European markets.
You can share this story on social media: