Russian state moves ahead with privatization plans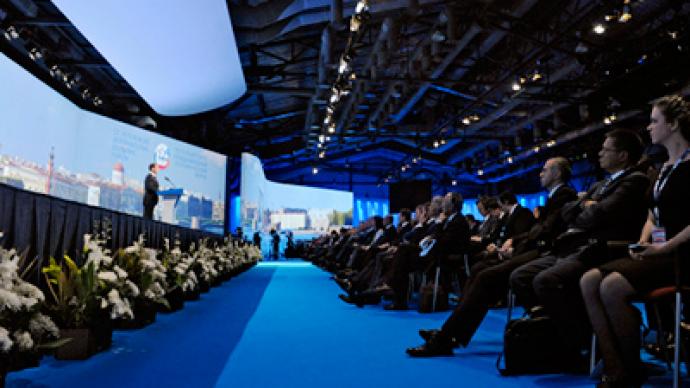 Russia plans to raise 500 billion roubles from privatization in 2011, Deputy Economic Development Minister Aleksandra Levitskaya said at the St. Petersburg Economic Forum. Russian President Dmitry Medvedev, proposed a deadline for revised plan
Russian President, Dmitry Medvedev proposed the government  release its controlling stakes and, in several instances, blocking stakes, in many major companies, requsting to submit a revised privatization plan until August 1, 2011
"The state doesn't need so much property. The government has presented its proposals for scheduling the privatization of major companies. The implementation of these plans is, of course, necessary but they are too modest,"
Presidential aide Arkady Dvorkovich said during the forum that revenue from privatization should rise to 450 billion roubles in 2012, up from the planned 300 billion roubles.
"Beginning next year, this will involve a 50% increase in privatization revenue to 450 billion roubles from the planned 300 billion roubles,"
Dvorkovich also mentioned that the state might sell the blocking stake in VTB bank in a long-term perspective
"We are talking about maximum admitted reduction of State stake in VTB, though it could be more or less 25%. We do not exclude the possibility of absolute privatization of VTB over the next 3-5 years. Until now, the plan is to sell 25.5% due to 2012 with the state retaining the controlling stake."
According to the current privatization plan for federal property, the state should offer 25% minus one share in Rosneft, 7.97% minus one share in RusHydro, 4.11% minus one share in the Federal Grid Company, 50% minus one share in Sovcomflot, 33.5% minus one share in VTB, 7.58% minus one share in Sberbank and 25% minus one share in Russian Railways – all due in 2011-2013. For the period of 2013-2015, the state might offer 25% minus one share in Rosselkhozbank, and 50% minus one share in Rosagroleasing. The government proposed an acceleration of the 100% privatization of United Grain Company, with a projected deadline for the transaction being 2011-2012.
Head of Sberbank, German Gref, hailed the state plan for privatization saying that several legal issues prevent Sberbank from significant stake privatization.
"I see the state privatization decision and the recent President Medvedev's announcement as very positive for all market participants. In connection with Sberbank, we expect that a 7.5% stake will be sold later this year, likely due in September-October. Until now, the sale of bigger stake is not expected given several legal obstacles which should be worked out in future,"
Gref added that the reduction of state stake will not be harmful for the bank, but even favorable.
"Sberbank has reached the necessary level of transparency, loyalty and sustainability that provides for the absolute demolition of state control. However, before now the state presence was inevitable for bank development and strength,"
Maksim Shein, analyst at FC BCS, says the price and volume will be defined by the market conditions
"The Government, as we have noticed has already amended the privatization plan several times opver the last two years increasing the volume of state stake offer and adding more companies to the list. This is clear sign for investors who have a positive market outlook and plan to expand their investment portfolio with state controlled company shares. The market should continue its upward trend development where presidential elections will play an important role and maybe in a few months we will see a chain of IPO's addressing foreign Stock Exchange."
Andrey Goltsblat, managing partner at Goltsblat BLP, said the progress of State privatization relies on the Government desires
"In order the stateprivatization planof a number ofthe most interestingassets for investorsbecomes moreaggressive, it is necessary to amend thelist of strategic enterprisesand joint stock companies, approved byDecree of the Presidentof Russia.The listat one timeincludedmore than 1.000enterprises.However,since 2004the list has been reduced by about 70%.For example, VTB bank stake has been approved for privatization incontrast to the Sberbank which stake offer was reduced.Perhaps, ina light of recentstatements byMedvedev, this workwill continue. The political will is the main driver for the program."