Pharmacies looking for better tax prescription
Published time: 15 Jun, 2011 13:53
Edited time: 15 Jun, 2011 18:25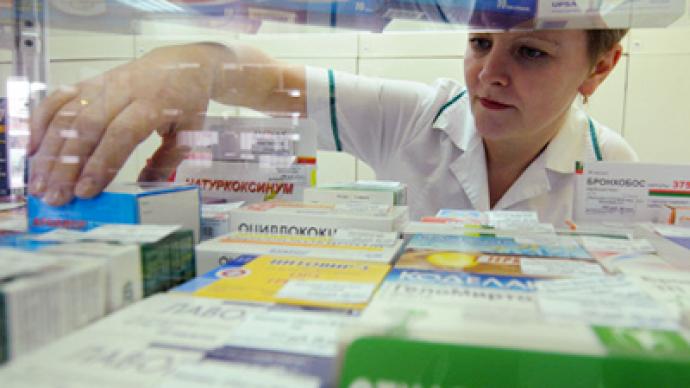 Russia´s pharmacies are pushing authorities for a more favourable tax regime, claiming current rates of insurance payments have almost stifled the industry.
Russian pharmacies have seen insurance rates climb to 34% from 14% of their imputed income since January 1, 2011.That has pushed more than 70% of the retail pharmacy market into the red according to the Russian Association of Pharmaceutical Networks.
Earlier in April Russia´s Ministry of Public Health and Social Development prepared the draft law, which proposed pharmacies a lower insurance rate of 26%. However, Nelly Ignatieva, executive director at the Russian Association of Pharmaceutical Networks, says this won´t help, as only the previous 14% rate would make Russian retail pharmaceutical market profitable and attractive for investment again.
"We think, a 14% insurance rate would be optimal, not excluding a rate up to 20%.The President and the Russian Government, which didn´t prepare suggestions to cut insurance rates till June 1, will come up with a decision in the near future. We keep on insisting on an individual consideration of the issue for pharmacies. In fact, pharmacies today are in a critical position, and households also can find themselves in the same situation. In the first place we care about health of our citizens, who need affordable pharmaceutical help, as every medicine taken separately is in essence vital.¨
According to Valeriya Solok, CEO at 36.6 pharmacy chain, in 1Q 2011 insurance payments almost doubled to reach 159 million roubles from 88 million roubles paid in 1Q 2010, nearly doubling – from 2.8% to 4.4% – the proportion of revenues the insurance payments represent. Solok says this is virtually eliminating profit.
¨To maintain the obligatory minimal range, including low price goods, retain a minimal margin for medicines of vital importance, and remain competitive and profitable, pharmacies need the opportunity to earn money, which they don´t have today.¨
Solok adds that unless something is done a number of smaller players may be forced out of business which could have the longer term effect of pushing up prices and reducing availability of pharmaceutical products in some areas.
¨The unified social tax, which almost doubled, may crash the pharmaceutical market and make medicines less affordable for people. It is important that a strict governmental pricing regulation should be coupled with an adequate tax system adopted to modern realities, which will let the market develop.¨