Passing the parcels in a rebounding Russia
Published time: 16 May, 2011 08:50
Edited time: 16 May, 2011 17:56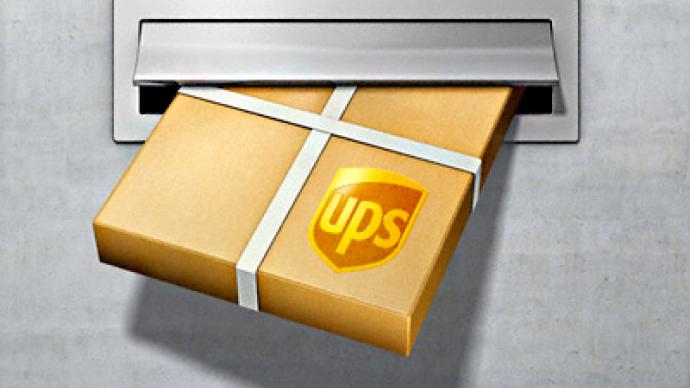 With the rebounding Russian economy driving increased use of parcel services, Business RT spoke with Ivan Shatskih, CEO at United Parcel Service Russia, about the global outlook for the sector and how the Russian market is changing.
RT :How strongly have parcel volumes rebounded in the wake of the 2008-2009 downturn?
IS:"UPS's global average daily delivery volume in 2009 was 15.1 million packages and documents, increasing to 15.6 million in 2010, a positive result for UPS. UPS's recently published global first quarter results for 2011 were also very positive, following a strong overall performance globally in 2009 as a whole. Global operating profit for UPS was up 36.9%in the first three months of 2010 as compared with the same period in 2010.We are optimistic about 2011. We feel we are in an excellent industry space with great growth potential. With GDPs and industrial production on the rise in many economies around the world, international trade should be one of the catalysts that drives a return to growth."
RT: What is your outlook for the coming 12-18 months?
IS:"Trends in Russia are similar to those we are seeing globally. As the global economy recovers, so international trade increases. Express delivery companies facilitate much of that international trade, so all this means potential for growth. Besides this, Russia is also an opportunity market with a bright future and an expanding middle class. So we're optimistic about the future of UPS and express delivery in Russia.
It's no surprise that the main cities – Moscow and St. Petersburg – are where much express courier activity is concentrated, and this is where UPS is strongest too. We have been operating in Russia since 1989, so we've had time to develop our network – which now comprises 15 package sorting facilities, 2 supply chain facilities and around 95 access points where customers can pick up and drop off packages – and a broad portfolio of services across the entire supply chain to help businesses in Russia reap the benefits of international trade.
UPS's strategy for Russia is consistent with our objectives for the rest of the world: Find ways to leverage our core strengths that deepen our relationships with our customers. Global commerce will become more complex in the coming years. As it does, a compelling need arises to simplify and synchronize business processes. That's one of UPS's greatest strengths, and it is one of the ways in which we will continue to move ahead of our competition.
Our vision going forward is to bring the world's businesses together through synchronized commerce.We do and will continue to do this by coordinating their distribution systems, supply chains, and order management cycles, helping them to compete better in an expanding global economy."
Ivan Shatskih, CEO at UPS (RUS)
RT: To what extent are parcel delivery and logistics operations in Russia still heavily impacted by customs and administrative issues?
IS:"According to the World Economic Forum's Global Enabling Trade Report, published last year, Russia still has significant ground to cover in the fields of efficient customs administration, efficiency of import/export procedures and transparency of border administration. There is always room for improvement.
While the recent customs union between Russia, Belarus and Kazakhstan promises to bring modernization and increased efficiencies, both of which UPS welcomes, we believe that a new customs order to complement the current customs law, would be beneficial to all parties. Improvements to customs procedures, reduced bureaucracy and streamlined administrative procedures would help to make trade more efficient and allow us to service our customers more efficiently. UPS welcomes any advances in this area."
RT: What is driving market growth in Russia? Corporate users or the general public?
IS:"UPS is predominantly a service provider for businesses of any size, both in Russia and the rest of Europe, and these businesses continue to be our main drivers for growth in Russia."
RT: To what extent is increasing internet selling a driver of volumes for parcel deliverers in Russia?
IS:"We believe that one of the key trends that will allow us to continue to grow our business is the increased use of the Internet for ordering goods around the world.UPS is one of the leading delivery companies globally of goods ordered via the Internet.At UPS, we provide the infrastructure for an Internet presence that extends to tens of thousands of customers around the world who have integrated UPS on-line tools directly into their own websites.
Certainly, delays in the customs clearance process are an obstacle to the growth of this sector in Russia as they make it difficult for courier companies to meet their time commitments to customers."
RT: Are you looking to expand regional services?
IS:"UPS is always looking for the best ways to service the needs of our customers. In the last year we have broadened our service offering in Russia to include UPS Domestic Express (offering delivery before 12.00pm to certain cities within Russia), as well as domestic UPS Returns for reverse logistics and UPS Import Control, a comprehensive inbound shipping solution which allows UPS customers to initiate package shipments and a UPS collection from another country and request delivery to themselves or to a third party."
RT: Do you believe that a reformed Pochta/Rossiya poses a significant threat to UPS operations?
IS:"UPS operates alongside postal organizations throughout the world. Broadly speaking, liberalization and modernization of letter/mail markets usually leads to better quality service and more choice for consumers – something that UPS welcomes. At this time, UPS has no plans to enter the domestic mail business or to compete with national post offices in this segment."
RT: Recently there has been a major focus on the logistics facilities (or lack) in and around Moscow.Does UPS find delivery and pickup in and around Moscow more difficult than comparable cities internationally?
IS:"UPS operates in towns and cities in more than 220 countries and territories around the world. All cities are faced with the challenge of finding the correct balance between economic activity and mobility, and Moscow is no exception. UPS works hard every day to ensure that the challenges of picking up and delivering in urban areas are overcome and that our customers receive the reliable service they expect from UPS.
UPS currently has two package centres covering Moscow, from where we service all customer pick-ups and deliveries in the Moscow area."
RT: The Moscow Mayor has proposed a number of possible traffic restrictions for commercial vehicles – DoesUPS have a view on Moscow's transport/traffic issues and what should be done?
IS:"The AEC (Russian Express Association), together with transportation companies, are seeking to work with and are open to support from the city government in order to make the process of commercial deliveries smoother, to the benefit of the Moscow city and local regional economy."
RT: Does UPS see significant potential for Russia becoming a potential land bridge between Europe and Asia for logistics operations?
IS:"Russia does form a physical landbridge between Europe and Asia, and, as such, does have potential for the provision of overland transportation services, always as long as the right infrastructure is in place. Logistics operators could make use of this route, although Express volume generally has to travel by air to meet its time commitments."
RT: How do you believe Russian WTO accession would affect your operations in Russia?
IS:"UPS would welcome Russia's accession to the WTO. Russia's position as a full trading partner within the WTO context would reduce barriers for international trade, providing increased opportunities for business in general and, in turn, for shipping companies who facilitate that business."
­James Blake, Anastasia Kostomarova, RT