​Russian metal companies to redirect to Asia if sanctions hit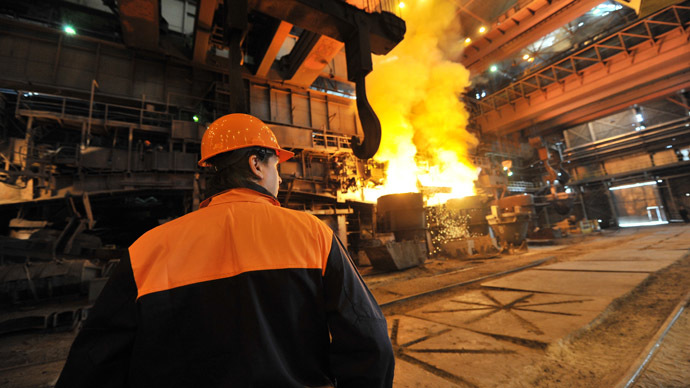 Russian metal producers are looking to expand into Asian markets, in case the US and the EU impose sanctions on Russia.
The CEO of Norilsk Nickel, Vladimir Potanin said his company won't rule out increasing supplies of nickel and palladium to China and Japan, Vedomosti reports. Other Russian metal producers such as Mechel and Metalloinvest say they could switch to Asian markets, while they didn't specify the sales volumes.
Andrey Varichev, the CEO of Metalloinvest, said that taking into account the capacity of Russian Railways, Metalloinvest logistics could move deliver part of its production to markets in the Far East, including China, but the target market for Metalloinvest will always remain Russia, he added.
According to Potanin, Norilsk Nickel is also considering measures to shield against possible sanctions from the US and EU.
"We have large volume of operations in the Chinese market, but the main payment currencies are dollar and euro. In principle, nobody hinders settlements in such currencies as the yuan for deliveries to China. We decided to explore this issue, to look how it'll function," Potanin said.
Metalloinvest and Mechel also confirmed they are considering using the yuan as the main currency in deals with China.
Meanwhile, Potanin doesn't believe there will be tough sanctions as "they are unnecessary, uninteresting and harmful to both parties". "But in a case of specific emotional actions of regulators or of certain countries — just in case — it is necessary to study what we will do in this situation," he said.
However a BKS analyst Kirill Chuyko says the reorientation to the Chinese market would be too expensive for companies such as Evraz, as firstly the logistic costs are too high. On top of that, "China is the largest steel producer. Even some subsidized national plants go bankrupt. There would be no opportunity to compete with domestic producers, while selling steel below cost won't make economic sense."
You can share this story on social media: