Market Buzz: No news from Greece will drive market bullish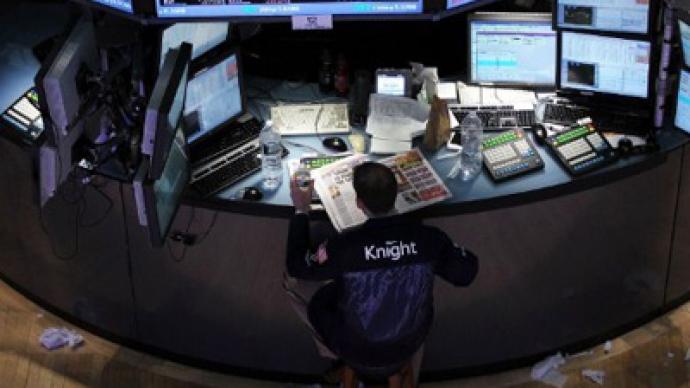 Anticipation of an austerity agreement on a Greek bailout is engaging investors' attention and the news vacuum may result in a short-term bullish trend for the market.
"If we have good news out of Greece than we'll definitely move higher during the day, but I think, coming back from the negative day yesterday, we could start today a little bit lower. I think there is still momentum for the market for a higher level before it goes lower again, so I'm fairly optimistic about the next couple of days of trading unless we have some very significant news out of Greece", says Peter Westin, chief equity strategist at Aton.The RTS and the MICEX closed sideways Tuesday session. MICEX dropped 0.86% down to 1,549.49 with the RTS gaining 0.38% up to 1 632.62. The Russian ruble has significantly consolidated against the US Dollar. Yesterday US/RUR exchange rate shed down to 29.825 rubles from the previous 30.120.The ruble was supported by escalating oil prices. Light brand oil futures increased 1.5% reaching $98.41 per barrel the maximum price in the last five trading sessions, due to the continuing intense situation in Iran.In the States the markets closed in the black on Tuesday. The Dow Jones rose by 0.26%, settling at 12,878 points. The NASDAQ gained 0.07%, trading at 2904.08 points. The S&P 500 added 0. 2%, trading at 1,347.05 points.In Europe, important macroeconomic data is expected today – the data on the unemployment rate in Switzerland and statistics from Germany on the December trade balance. The market expects the trade balance to decrease from 15.1 billion to 14 billion euros, and if the forecast proves true it may have a negative impact on euro exchange rate.Asian markets on the whole rose Wednesday morning, expecting progress towards Greek debt resolution. South Korea's Kospi rose 0.9%, Japan's Nikkei Stock Average added 0.7%, and Hong Kong's Hang Seng Index grew 0.6%. Australia's S&P/ASX 200 index improved 0.2%, while China's Shanghai Composite edged up 0.1%.
You can share this story on social media: