Market Buzz: Russian investors eyeing lingered debt resolution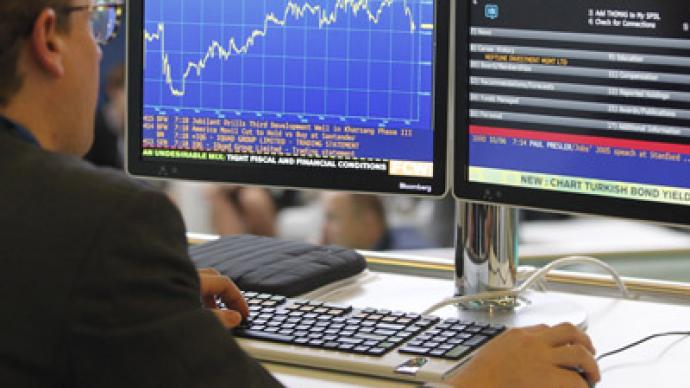 Russian investors' sentiments are positive at the moment but still uncertain as the future of Greece's next bailout package is not decided. Some analysts believe the Russian market can undergo a short spurt.
"The Russian market may continue growing in the short-term, but the increasing risks, caused by uncertainty and the large amount of data coming in, could slow down the bullish trend", says Alexander Osin the chief economist at Finam Management.On Wednesday reports suggested that several EU nations were ready to delay Greece's next bailout until the parliamentary elections in April. On the other hand, Euro group President Jean-Claude Juncker expressed his confidence about Greece getting the next tranche of aid on schedule – by Monday.Reacting to the Chinese statement the country will contribute to the debt issue resolution, the RTS and MICEX closed Wednesday's session in the black, each gaining 1.10% and settling at 1,662.17 points and 1,579.38 respectively.Transneft stocks were trading solidly lower due to the announcement the company will not finish the 'Western Siberia – Pacific Ocean' pipeline until the end of 2012.Light brand oil futures rose by $1.06 up to $101.80 per barrel.U.S. stocks shed reacting to the latest Federal Reserve meeting and amid uncertainty over Greece. After starting higher, the Dow Jones spent most of the day lower and worsened losses by the end of the day decreasing by 0.8% down to 12,780.95, which is its biggest decline of the year. S&P 500 also closed sharply lower at 1,343.23 points, a decline of 0.54%.On Thursday we expect to see some important macroeconomic data, including the Initial Jobless Claims from the US. Wall-Street analysts expect the claims to grow from 359 thousand up to 365 thousand, which could have a negative affect on the dollar. Britain's main stock index ended with a minor loss Wednesday, as the result of media reports that euro-zone officials may delay the bailout package for Greece. The FTSE 100 closed 0.1% down at 5,892.16 and finished in the red for a second day. Asian shares also traded mainly lower Thursday, as investors anticipate a possible Greek default. The Australian S&P/ASX 200 index dropped 1.5%, the South Korean Kospi fell 1%, along with the Hong Kong's Hang Seng Index declining 0.5%.
You can share this story on social media: