Russia's manufacturing on the rise in May – PMI
Published time: 1 Jun, 2012 17:18
Edited time: 1 Jun, 2012 21:18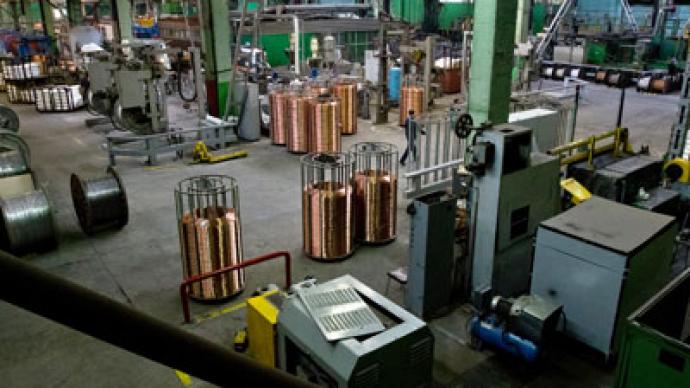 Russia's PMI – an indicator of business activity – had its best performance for over a year in May, while the euro zone suffered a sharp drop. Though this doesn't mean Russia's economy is immune from global tendencies.
Russian businesses enjoyed the best working conditions in May since March 2011, as its HSBC Manufacturing PMI beat its long running trend of 52.1 and reached 53.2.
A PMI reading above 50 points to growth, with below 50 pointing to economic contraction.
Improved figures came mostly on the back of sharper growth in new orders in May. Russia's manufacturers saw an increase in the volume of orders for the eighth consecutive month.
At the same time in May, the private sector in the eurozone saw its sharpest shrinkage since mid – 2009. The driver was the same – dynamics in new orders, which in the case of the euro zone slipped.
"… the recent robust manufacturing PMI data on Russia can hardly be interpreted as evidence of a true decoupling from global economic trends," saidAlexander Morozov, Chief Economist (Russia and CIS) at HSBC..
The survey also said that consumption activity of Russians was at its height last month, which is in line with official figures pointing to solid growth in retail sales and bank lending to households.
The PMI Composite was quite contradictory to official data on Russia's industrial production in May. But its component – the Output PMI index-" declined in May, pointing to slower output growth, and this result is also more aligned with the official IP dynamics," the report explained.
The pace of growth in Russia's industrial production for the first 4 months of the year fell to 3.3%, while a year ago the figure stood at 5.5%, according to Russia's Federal Statistics Service.
On top of strong consumption activity, the growth of new orders was underpinned by substantial demand from the state, with the biggest share of state orders coming in the first half of the year in 2012.
"With respect to stronger export demand growth, we think that Russian exporters could be grabbing a bigger market share at the expense of competitors from other countries. Indeed, a large share of commodities in Russia's export structure, in an environment of overall weak global commodity markets, leaves little room for alternative explanations," Morozov concluded.