Sugar producer tops Russia's largest landowner list
Published time: 17 May, 2013 14:25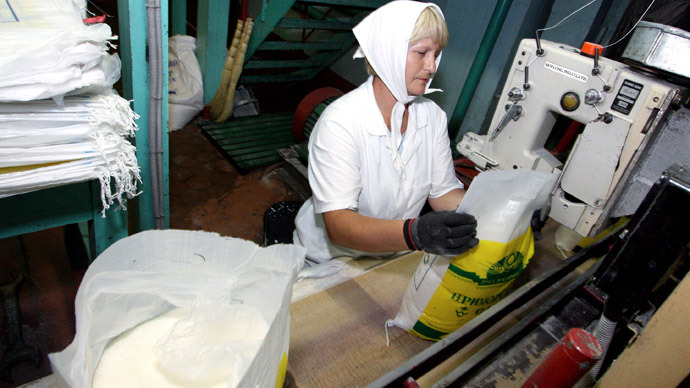 Russia's largest sugar producer Prodimex is officially the largest land owner in the country with 480,000 hectares (1.18 million acres), which is 20% of all private land. The figures come from auditor BEFL's annual landowner report.
Prodimex has 16 sugar factories in 3 different provinces, and produces over 1.1 million tons of sugar a year.

The company's general director, Viktor Aleksakhin told Vedomosti that production requires such a large land holding due to the nature of sugar beet cultivation - which must be replanted on a different field each year.

Russia accounts for a sixth of the world's landmass and has several private land owners, with the top five having ties to agricultural production.  At the beginning of 2012, agricultural land in Russia was 196 million hectares, 115 are fertile and in use. In April 2013, the Russian Ministry of Agriculture said the industry was 'unprofitable', and only made possible by state subsidies.

RusAgro, which specializes in pig breeding, and production of sugar and cooking oil in the Moscow region, owns 452,000 hectares.

Vamin, a dairy specialist in Tartarstan that has recently declared bankruptcy, owns 450,000 hectares.

Siberian agricultural major Sakho has 400,000 hectares and is owned by State Duma Deputy Airat Khairullina.

Tatar agro-company Krasny Vostok Agro has 350,000 hectares.

Before Prodimex was founded in 1992, nearly all sugar was imported from Ukraine.

America's cattle kingdom
Kings of agriculture dominate landholding in Russia, but in the US, it's a millionaire ranch and cattle club.
John Malone, Liberty Media Chairman, owns almost twice as much land as Russia's largest sugar producer, about 890,000 hectares (2.2 million acres) which combined are the equivalent of 150 Manhattans.

Malone owns ranches in Wyoming, Nebraska, Colorado, and New Mexico. The most famous is 'The Bell Ranch', a 290,100 acre cattle ranch which he bought in 2010 for a listed, but not confirmed price, of $83 million.

Malone's equities are widespread. Liberty Global agreed to buy Britain's Virgin Media cable company for $16 billion in February 2013. Malone also has diversified interests in US sports teams (the Atlanta Braves) and media (Starz channel).

Land has made a comeback – from cattle, private ski resorts, hunting and fishing clubs, to Maine coastline – for American entrepreneurs who prefer to take a stake in natural real estate to diversify and hedge their assets against the risky gold, oil, and stock prices.

With an improving US housing market, land holdings are likely to appreciate, especially those acquired during the recession.

Media mogul Ted Turner, the owner of CNN has over 2 million acres of land spread through New Mexico, Colorado, Montana, South Dakota, Nebraska, Kansas, and Florida. The grand Vermejo Park ranch in New Mexico and Colorado is 590,823 acres and his hunting sanctuary in Florida, where he has residence is 30,000 acres.