Russia and Kazakhstan continue gold spending spree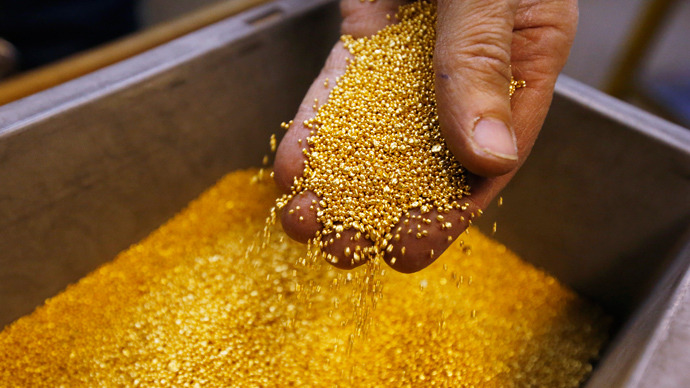 In April Russia and Kazakhstan increased their gold reserves for the seventh straight month, buying low as market is still in a slump.
Russia, Kazakhstan, Turkey, Belarus, Azerbaijan, and Greece all increased their gold reserves last month, whereas Mexico and Canada decreased.
Russia has continued as the world's top gold buyer, and seventh largest holder in the world, with 990 tons, up 3.4 percent from last year, according to IMF data.
Kazakhstan increased its holdings up to 125.5 tons, an increase of 8.9 percent, continuing a 10 month streak, and Belarus expanded for a 7th straight month.
Mexico and Canada reduced their holdings.
Prices will likely to remain steady through the day as both the US and UK trading floors are closed for public holidays.
US gold futures for June delivery rose 0.4 percent to $1,391.80 an ounce.
The US Mint sold almost 210,000 ounces of gold last month, the highest level since 2009, which has made gold traders slightly more bullish, following the bear market plunge on April 12 and the biggest two day drop since 1983. Gold still remains down nearly 17% this year.  
Physical demand for the metal remained strong in Asia, after gold bars hit a record high as supplies contracted.
July's silver Comex for delivery fell 0.48 percent to $22.388 an ounce while copper for July delivery dropped 0.18 percent to $3.289 per ounce.