Central Bank of Russia is to further cut interest rates
Published time: 22 Apr, 2013 16:02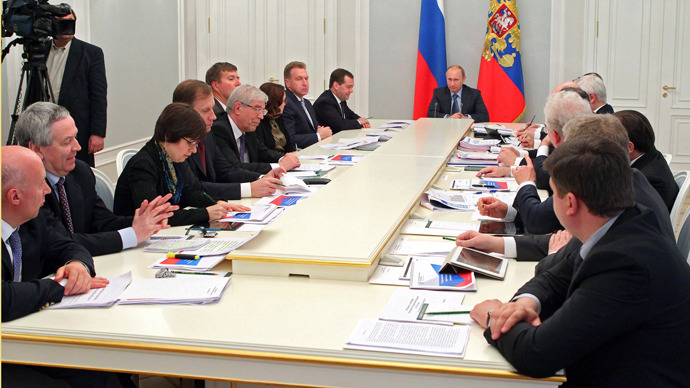 Russia will continue trimming its interest rate, Central Bank Chairman Sergey Ignatyev announced at an economic meeting chaired by President Vladimir Putin in Sochi.
In early May, the bank will cut rates down to 8%. CBR will cut "some, but not all, of the interest rates at which the central bank lends to commercial banks."
"I think that the downward trend in interest rates by the Bank of Russia will continue", Ignatyev was quoted by the ITAR-TASS news agency. 
This decision follows an April 2 memorandum by the board of directors to reduced the benchmark interest rate from 8.25% to 8% for more lengthy financing periods. 
The new rate will lower borrowing costs and hopefully improve growth, as Russia looks to strengthen the rouble, interest rates, and fiscal consolidation.
"If action is not taken, the rate of GDP growth of 2-2.5% by the end of this year could very well become a reality," Alfa Capital finance analyst Vladimir Bragin told Rosbalt.
"Against the background of the apparent slowdown in the Russian economy there is no doubt that the Bank of Russia will be forced to lower rates. Moreover, inflationary risks have begun to decline," Alfa Capitals finance analyst Vladimir Bragin told Rosbalt.
The bank previously said it would not cut interest rates as long as inflation remained above the 7% target.
The rate reached an all-time high of 210% in October 1993 and a record low of 7.75% in June 2010.
According to the Central Bank the volume of lending to the real estate sector in the last 12 months increased by 20%, 12% adjusted for inflation. Ignatyev said business lending increased by 14% and personal lending decreased 37%.
"The GDP for the last 12 months in the first quarter increased by 0.1%," - he said. "That is, if we compare the dynamics of lending and the dynamics of GDP, lending grew at a very good pace," said Ignatyev.