Russia signs $3bn arms deals with India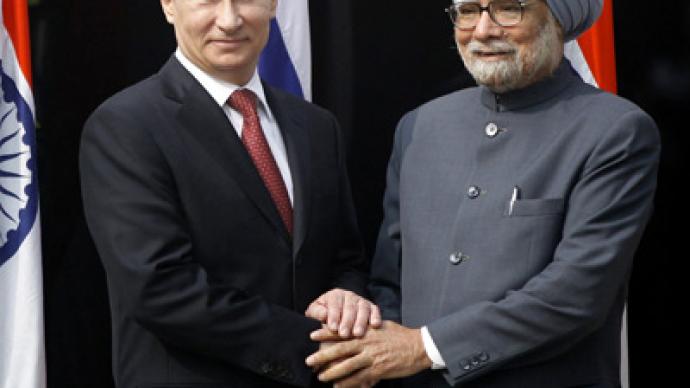 Russia will sell India military helicopters and military equipment worth about $3bn under a new agreement as bilateral trade might double to $20 by 2015.
Russian President Vladimir Putin and India's PM Manmohan Singh signed a number of arms deals during Putin's visit to Delhi, which include the supply of 71 military helicopters for $1.3bn and kits to assemble 42 Sukhoi jet fighters for a further $1.6bn.India is currently the world's largest arms importer, and one of Russia's top clients for arms sales as Russian-made military equipment accounts for 70% of Indian weaponry.Trade between Russia and India has been growing steadily and is expected to reach around $10bn dollars in 2012, up from $7.5bn in 2009, according to Indian official figures. Ahead of the visit, the Russia President called to increase bilateral trade to $20bn by 2015."Our trade turnover has overcome the consequences of the global crisis, and in 2012 we expect to reach record numbers, over $10 billion. Our next goal is to reach $20bn by 2015," Putin said.The agreements are expected to overcome a recent slowdown in arms procurement as India has shown increased interest in western suppliers. Last month Dehli preferred Boeing over Russia's MiG for a major helicopter contract. Trade relations with India were complicated by Russian efforts to improve relations with Pakistan. India has also been unhappy with a delay in delivery of the aircraft carrier Admiral Gorshkov. It was originally due to be delivered in August 2008 but has been postponed to the end of 2013, while the price has more than doubled to $2.3 billion.In addition to the agreements signed on Monday Russia Helicopters and India's Elcom Systems Private Ltd are to set up a joint venture to manufacture helicopters, according to Indian Foreign Ministry officials.Despite some negative moments in the two countries' trade relations, the bigger picture looks much better, according to Professor and Dean at the Jindal School of international affairs in New Delhi Dr. Sreeram Chaulia. "Both countries have a list of sore points to put it so. Indians want the aircraft career to be delivered faster, and there have been issues about attempting to increase the civilian part of the trade. The civilian part of the trade has unfortunately remained limited to 10 billion dollars per annum and we would like to see it going much faster. India-China for example is over 70 billion dollars," Dr. Chaulia told RT. "But as I said before, if you look at the big picture in any strong solid special relationship like ours you can find occasional creases here and there which can be ironed out and smoothed out at highest political level."President Putin and PM Singh have also discussed security in the region during the meeting in Delhi."India and Russia share the objective of a stable, united, democratic and prosperous Afghanistan, free from extremism," Singh said.Putin has also met President Pranab Mukherjee, Sonia Gandhi, chairman of India's ruling United Progressive Alliance, and Sushma Swaraj, leader of the main opposition Bharatiya Janata Party. The leaders meeting was relocated to Singh's residence due to security reasons as massive protests over widespread violence against women in the country took place in Delhi.
You can share this story on social media: