Russia to build the world's biggest icebreaker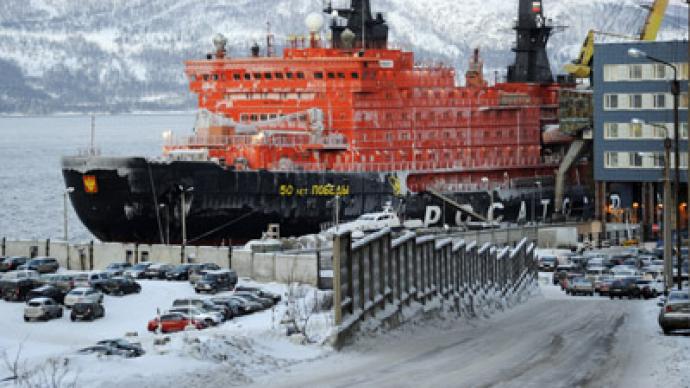 The world's biggest atomic icebreaker will cost Russia an estimated $1.1 billion, with construction to start in 2013. The mega-ton ship will be capable of breaking 4 meters thick ice to help explore the Arctic shelf.
Atomflot – a sister company of Rosatom – will build the ice breaking ship, and hopes to have it ready to sail in 2015."This icebreaker will clear the way for other vessels in Russia's Arctic as well as tag them along the Yenisei and Ob rivers", Atomflot told Izvestya newspaper.The new Icebreaker will be granted the highest ice class – 9, meaning the ship will be able to break ice thicker than 4 meters in the Arctic area all year round.It will also be capable of swiftly passing through the 2.5 meters thick ice fields."The estimated cost will include construction work, building a shipyard etc. But the most expensive part of the icebreaker is the Rhythm-200 reactor and various pieces of know–how" Aleksey Kravchenko from OSK ship Building Corporation told Izvestya."By the time we get to the series we will be able to lower the cost by 30 percent" he added. Russia is the only country in the world that is currently building atomic icebreakers and specialists say it needs them to keep control over the Arctic basin."Icebreakers are used to transport huge tankers to the oil and gas shelf in the Arctic region. The new type of icebreakers, capable of breaking 3 meter thick ice, could be used commercially all year round" said Kravchenko.The new Icebreaker-9 (170 meters long, 34 meters wide) will supersede "50 year Victory", the current biggest icebreaker – it's 159 meters long and 30 meters  wide.Specialists say that the new type of Icebreakers will be universal because they can be used both in the Arctic area and on rivers. And that is what's unique about them. "We had nothing like this before and we really need such icebreakers", Yuri Sinelnikov, from the Baltic shipbuilding plant in St Petersburg told Izvestya.Russia currently has 5 icebreakers cruising the Arctic. They were built between 1985 and 2007. By 2016 it plans to replace the older types with the new Icebreaker -9.
You can share this story on social media: