Fires rage on as economic costs mount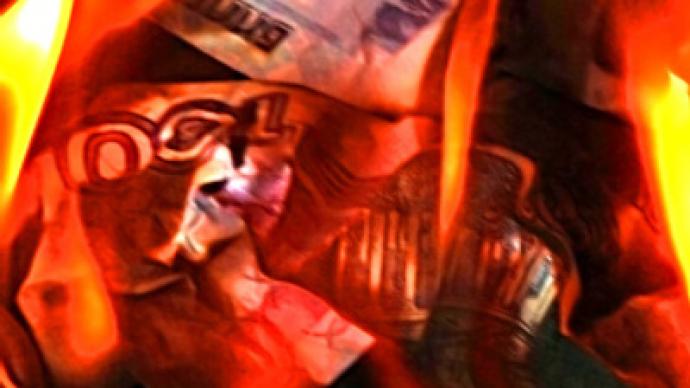 With fires across Russia continuing to burn out of control, as the death toll and damage bill mounts, experts say the overall economic impact is rising but that the economy should cope.
A total of 40 people have already died in the fires with the latest damage estimate coming already up to 6.5 billion roubles. But both are expected to climb with Russia's heat wave and drought extending into a 7th week.
Kommersant reports that President Medvedev announced a state of emergency in the Mary El and Mordovia republics, as well as in the Vladimir, Voronezh, Moscow, Nizhny Novgorod and Ryazan regions.
According to the Emergencies Ministry, the situation is the worst in the Nizhny Novgorod region where fires in the Vyksa district have become the largest in European Russia, according to Vremya Novostei.
Regional governor Valery Shantsev has ordered the allocation of 133.21 million roubles from a reserve fund for emergency needs of residents, who are entitled to 10 thousand roubles each, with people left homeless entitled to additional compensation worth 100 thousand roubles each.
A personal bank account has been opened for each of the 960 people worst hit by the fires in the Vyksunsky district, Shantsev said, and the 10 thousand rouble compensation has already been deposited to their bank accounts.
Prime Minister Vladimir Putin said on Monday that Governors will bear personal responsibility for the proper use of the budget funds allocated coping with the fires' aftermath. He also indicated November 1 as a deadline for building houses for people who lost their homes.
Regional Development Minister, Viktor Basargin, says that up to 6 billion roubles ($180 million dollars) will be spent on the restoration of fire damaged housing, with another 400 million roubles to be paid as compensation to those affected by fires. It is currently planned to allocate up to 2 million roubles to restore each house, with each homeless fire victim getting 200 thousand roubles in lost property compensation. Additional monetary assistance worth 25 thousand roubles will be given from the Pension Fund to non-working pensioners whose property was damaged by forest fires.
Prime Minister Putin has warned that the peak fire danger hasn't yet passed with the weather forecast for hot dry weather continuing, and new fires starting by the hour. Fire has already swept over 120 thousand hectares of forest.
Yaroslav Lissovolik, chief economist at Deutsche Bank, says the economic effects are beginning to mount.
"Certainly, most of Russia's economy will suffer from the ongoing fires, with a huge damage to agriculture with some companies, having put their production on hold for record heat, evident already now."
However, Evgeny Nadorshin, economist at Trust Bank, says the economic impact of the fires should be limited.
"I think, the fires in Russia won't massively affect the economy. Also, our emergency services could predict the disaster and make themselves decently prepared, as we had similar problems some years ago. Not on such a scale, but still."
Igor Nikolaev, Partner and Director of Strategic Analysis at FBK, agrees with Nadorshin, but warns that investor panic about the possible impact could magnify the effects.
"The overall losses estimated at around 5-6 billion roubles can't be that destructive for the 40 trillion roubles economy. However, there is a much bigger invisible danger in this emergency situation. If it lasts too long, foreign investors could get frightened by the uncertainty and start taking their money away from Russia's economy. The process hasn't started yet but we should be aware of such a possibility and our Government should be on guard and take each and every possible step to make foreigners believe that the situation is under control."
Interestingly, the economists also noted that the negative overall impact will be even partially offset by increasing demand for new housing, with Nikolaev suggesting reconstruction could provide a short term local economic boost.
"Of course, fires across Russia damage Russia's economy, but their effect can't be described as entirely negative, as the construction sector, for example, benefits from this. So, the demand for new buildings even contributes to GDP."
You can share this story on social media: