Medvedev trumpets Russia as crisis-proof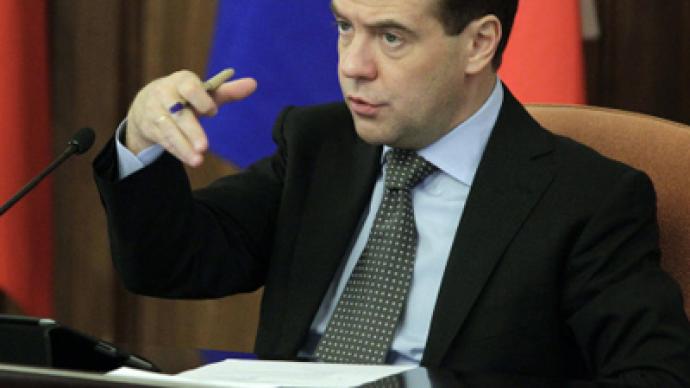 Good economic numbers has prompted President Medvedev to suggest Russia is in a much better prepared for a second wave of crisis than Europe.
He's trumpeting Russia's fairly rapid GDP growth, 'this year it will reach between 4 – 4.5%, while in Europe and the US GDP growth will range from zero to 1%.'
And the President is equally optimistic about inflation which is projected to be at its lowest level in modern Russia's history – 7 %, and unemployment significantly lower, at about 6%.
His rosy picture isn't shared by all the experts, some argue it's too early to be so positive.
Igor Nikolaev, Partner and Director of Strategic Analysis at FBK, believes there was no really firm economic background underlying the good looking statistics. He remembers September 2008, when "Lehman Brothers had happened", but Russian official statistics went on demonstrating a 3% growth in industrial production. Shortly after that, in October and November the Russian economy collapsed.
"Good numbers can make a major turnaround at any moment," Nikolaev concluded.
Vladimir Tikhomirov, chief economist and executive director at Otkritie Financial Corporation, basically agrees with the President, saying Russia is gradually recovering, but still depends very much on European markets – its major trade partner, exporting Russian commodities and in return importing much of the food sold in this country.
And talking about Russia's domestic environment, Tikhomirov noted that "gold reserves are also now almost back to the pre-crisis level, standing now at $530 billion, a bit below $600 billion in 2008."
The second wave?
Now the debate is about whether the second wave of the crisis has already arrived and how it differs or will differ from past experience.
Nikolaev thinks "the modern economy is an economy of sentiment," and the current turbulence in the markets, with investors worldwide being nervous and wary about the future, clearly indicates that the 2nd wave of the crisis is already here. Meanwhile, Tikhomirov calls markets fluctuations a "simple correction," with the second wave of the crisis just approaching, should the economic environment in Europe get worse.
Being confident Russia is already experiencing the second stage, Nikolaev says it is much more dangerous than the previous one, sneaking up on the economy in a way much different from 2008. As opposed to then, when "everything collapsed really quickly and aggressive, with the economy recovering back also quite rapidly", this time around world economies are slowing gradually, which is far more dangerous.
"Drop down and give me some push ups, as the saying goes – this is what was happening in all markets three years ago," said Nikolaev.
Tikhomirov believes quite the opposite. "Economic authorities worldwide, including Russia, are much better prepared now, with the second wave of the crisis most likely to be smoother", he says.
Huge social obligations the Russian Government undertook, which includes the promise to pay more to pensioners, for example, coupled with a dramatically thinned down "safety pillow" of the Russian economy – a Reserve Fund that now has 6 times less money, 800 million roubles compared with 4.9 trillion roubles in 2008,– make the situation in Russia very risky at the moment, Nikolaev concluded in a negative note.
Diversification away.
Being generally positive about the economic outlook for Russia, Medvedev admitted that while commodities exports provide for a lion's share of budget revenues in Russia, it's economy remains fragile.
"If we say that we are protected from the problems this would be a lie," the president says. "We must minimise our dependence on the fluctuations in the raw materials market," he said.
But there's no debate about the chances for Russian economy turning away from commodities, with Tikhomirov saying "it'll take some decades," explaining the need to go through a number of serious and long lasting stages, from attracting investment to educating the staff for new industries.
Nikolaev underlined that real steps of the Russian authorities, such as opening new oil and gas pipelines, are in fact just strengthening the country's image of a commodities exporter, with the prospect of diversifying away from those being very vague.