Grain controls on horizon as new Chinese agriculture links signed off
Published time: 12 Oct, 2011 12:10
Edited time: 12 Oct, 2011 16:10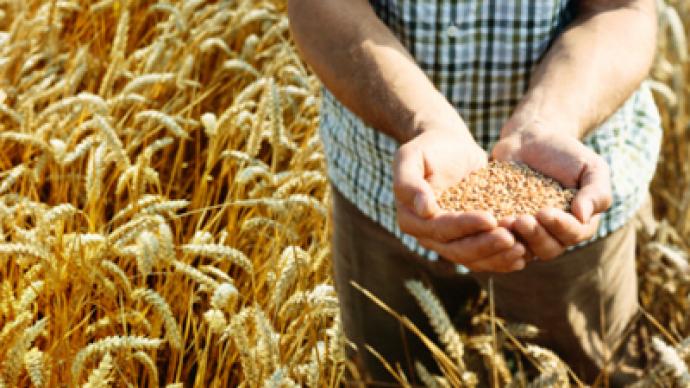 Russian Deputy Minister, Viktor Zubkov believes Russia needs to limit grain exports, despite a surplus, to keep domestic prices down.
Russia's grain harvest stands at 90-92 million tonnes, with 72 million tonnes used for domestic consumption. Speaking at the meeting dedicated to grain market regulation on Tuesday, Deputy Minister, Viktor Zubkov, said in today's conditions, the grain market has to be constantly monitored to ensure that prices are realistic, and that export restrictions are the most effective solution.
"The foreign market price has now reached $230-$235 per tonne, or more than 7000 roubles. From 5600 to 6500 roubles per tonne is a more realistic price. The government has set the task, and it is virtually already fulfilled, that before November 1 this year a draft resolution be issued enables the introduction of grain export restrictions so that prices on the domestic market are stable and so that domestic grain needs are provided for,"
The news comes as Russia and China has signed a memorandum of understanding to deepen agricultural cooperation, with the agriculture ministers of the two nations Elena Skrynnik and Han Changfu, committing to increasing bilateral cooperation, with a working group to begun meeting in 2012 in Beijing.
The Russian proposal to reintroduce grain restrictions, less than a year after lifting a grain export ban, introduced in the wake of Russia's summer 2010 drought, could be a key issue for potential Chinese imports of Russian grain.
According to a China Feed Industry Association October report, grain stocks fell  significantly in Chinese ports, with prices increasing sharply, this week, by 30-40 yuan per tonne in some areas, which is likely to generate orders for international purchases
"This week, the corn inventory in the southern and northern ports  fell, while the price continued to increase. The price was 2360 yuan per tonne in north ports and it was 2450-2460 yuan per tonne"
An import restriction mechanism has been developed, with a draft to be submitted to the government by November 1, which will allow it to take customs regulation measures. Speaking about the mechanism, Zubkov said that it might be a floating duty on exported grain.
"Grain exports now amount to around 11 million tonnes. The harvest work has not yet been completed, and exports are going actively. Calculations indicate that such export rates will occur in November and December and before the end of the year exports will reach 18-19 million tonnes,"