Russia battles for Turkmenistan gas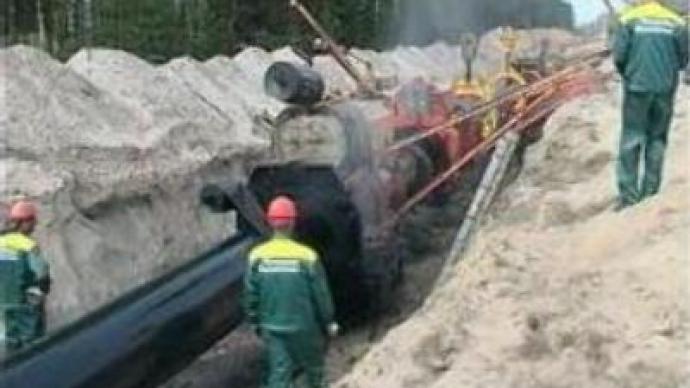 Expanding gas co-operation features heavily on the agenda of Turkmenistan's President, Gurbanguli Berdymukhamedov, first official visit to Russia.
Turkmenistan has the world's fifth-largest reserves of natural gas, and substantial oil resources. There are more than 3 TRLN cubic meters of gas, enough to continue exporting at current levels for almost 50 years. Russia is currently Turkmenistan's main gas export partner, and the countries did US$ 300 MLN worth of trade in 2006. An export contract between the two countries lasts until 2028 and major Russian companies including Lukoil, Stroytransgaz, and Soyuzneftegaz are planning new projects in the country. The gas is delivered through the Central Asian pipeline, which has a capacity of about 60 BLN cubic meters. A price of US$100 per thousand cubic meters is fixed till 2009.During the leaders' first meeting, President Putin expressed interest in seeing Russia and Turkmenistan expand gas cooperation.
"We are mutually important trade partners and I see more prospects for it in the future. Russia has launched a new branch of the gas pipeline system along the Caspian Sea and now pumps more then 5 MLN cubic meters of gas daily and there are possibilities for further expansion,"
said the Russian President Vladimir Putin.And although analysts say Turkmenistan is not limited for choice, the Turkmen President also seemed interested in the plan. The Caspian offshore gas fields are a particular area for discussion.But plans are afoot for a US$ 6 BLN extension to the South Caucasus pipeline. That would link the Caspian fields to Europe, without passing through Russia.
"This pipeline might be quite expensive to build. Also you have to negotiate into Government agreements along the pipeline way and I have my doubts about countries, for example such as Turkey, which already has enormous supply of gas from Russian Gazprom company by the Black Sea actually agreeing on a different pipeline. Definitely not in a short or medium term,"
commented Nadezhda Kazakova, MDM Bank analyst.And for Turkmenistan, with its huge reserves, it's not just a choice between Russia and the EU. Energy-hungry China, already present in neighbouring Kazakhstan, is also showing an interest.So Russia may increasingly have to compete with other world powers for Central Asian gas. And President Putin will be hoping to make more headway when he returns the Turkmen President's visit in May.
You can share this story on social media: