Russia bans grain exports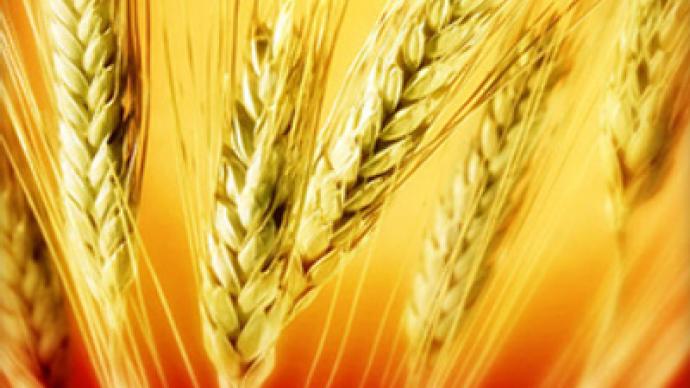 Russia has announced a temporary ban on grain exports from August 15 to December 1 in response to the worsening drought.
Global wheat prices have jumped on Thursday after Russia announced that grain exports would be suspended from August 15 to December 1 after the worst drought in 50 years has triggered a major reduction in forecast wheat production.
Wheat for December delivery jumped as much as 7.9% to $8.155 a bushel in Chicago, pushing it to a 91% gain since hitting a low of $4.255 on June 9. Tatiana Bobrovskaya, consumer sector analyst, with BKS says the rising prices have reflected global concerns about not just Russia, but also other nearby producers who are also weathering a prolonged drought, and also the thought that the official grain forecast for Russia could be reduced further.
"Grain prices have jumped up due talk about a Russian export ban coming in, as we have seen today, but also other major producers such as Ukraine and Kazakhstan reducing their harvest forecast. The general forecast of the Grain Union remains at 70-75 million tonnes this year, but the restriction on grain exports probably reflects a review of the forecast. If the grain crop remains near 70 million tonnes, the domestic market is not likely to face any deficit and the domestic prices will slow down."
Prime Minister Vladimir Putin told a government meeting in Moscow today that a temporary ban would be reasonable.
"Due to enormously high temperatures and the current drought, I think we should impose a temporary ban on export of grain and its derivatives from Russia. We do have enough reserves – 9.5 million tons but we shouldn't let domestic prices to rise."
Spokesman Dmitry Peskov announced it a short time later. Putin added that the Russian government will distribute grain from the state intervention fund, which currently holds 9.5 million tonnes of grain without auctions, by bids from regions which have been affected by the heat
"Our aim is not to make as much money as possible but to help those agriculture producers that do need this help. That's why we'll allocate the grain without auctions, but according to applications from Russia's regions."
Tatiana Bobrovskaya, consumer sector analyst, with BKS says that in bringing in a ban the government has two key aims.
"The government challenges two main targets: to avoid a grain deficit and push down domestic prices. These damaging the business of the main grain producers and exporters who expected to cover expenditures and bad harvest shortfall with expensive deals and contracts on sale of grain."
Sergey Levin, CEO at a Joint Grain Company, told Vedomosti that it's highly likely that the intervention fund won't be able to cope with the demand.
"Regional demand for the grain in the intervention fund has been growing each day, and according to the data from the Ministry of Agriculture has already now exceeded the real grain supply in the fund."
Arkady Zlochevsky, President of Russia's Grain Union, told Interfax, however, that the ban will hurt the market, as stopping exports with little warning creates troubles for producers with orders, and could affect Russia's reputation.
"We don't have either the opportunity, nor a mechanism for back delivery. Such a sharp decision can damage the reputation of Russia as a reliable grain supplier."
Bobrovskaya, believes that the government has bought in the export ban to head off supply problems should the forecast crop be reduced further.
"However, according to the latest news several major producers have managed to sell grain to Egyptian importers and have signed futures contracts with Jordan importers on C&F terms to be delivered in September. We suppose that another reason to introduce restriction on exports was a recent appeal by Glencore International SA to ban export from Russia so that to avoid default on grain market on contract obligations"
You can share this story on social media: