Russian banks hit record $33.3bn profit in 2012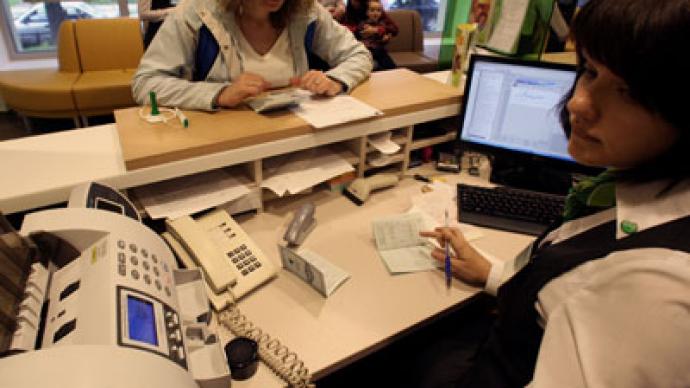 Russia's lenders set a new record for net earnings last year, which was mostly underpinned by fast growth in personal credit.
Banks across Russia beat their 2011 record $28.3bn, according to Aleksey Simanovsky, first deputy head of the Central Bank of Russia (CBR). While corporate banking produced little growth, Russia's households were very active and increased consumer credit by 40% in 2012 compared to the year earlier.Credit cards together with mortgage loans accounted for the largest part of the growth, with the amount of debt through cards increasing 74.81% year on year and loans for housing needs going up 50.53%, the National Bureau for Credit Histories calculated."The fast pace of crediting development, especially in the segments of mortgage lending and credit cards is a positive factor that reflects the market maturity and an increase in its technological effectiveness and responsibility," Aleksandr Vikulin, CEO of the National Bureau for Credit Histories, told Gazeta newspaper.The CBR has long been warning fast credit growth could hamper macroeconomic stability, "if a regulator doesn't react in time," as Sergey Moiseev, deputy director at CBR financial stability department said earlier in December.Unlike foreign markets, Russian producers benefit little from the growing credit markets, complains Pavel Samiev, CEO at Expert rating agency. While accelerated growth of retail credit results in a revival in domestic demand abroad, in Russia it's the country's imports that go up, the expert concluded.The growth, however, isn't expected to go into 2013, according to Maria Pomelnikova, an analyst at Raiffeisenbank. Demand for retail credit will be falling as Russian households will be becoming less confident about future income and tighter regulation by the CBR. "A slowdown [in the credit market] can very quickly translate into lower consumer activity and a 1% cut of consumption growth in our estimations could lower GDP growth by about 0.5%," Pomelnikova concluded.
You can share this story on social media: