RTS and Micex make tentative return to trade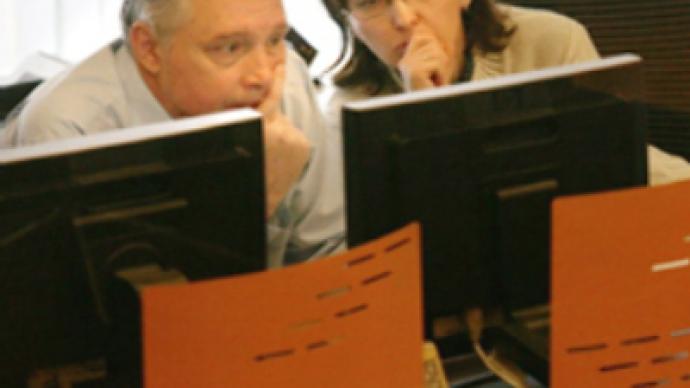 Russian stocks have resumed trade on Tuesday after a layoff enforced in the wake of Fridays 13% slump. In mid morning trade both are higher after a volatile start, amidst signs a floor is forming under global crude prices, and with Asian markets rebound
The omens were better than might have been expected when the markets were last opened with crude prices easing higher from their Monday lows. In later afternoon Asian trade Nymex futures were up 2% to just under $65BBL with both the Brent and WTI spot up over $60BBL. Adding to the mood were comments by senior Brazilian oil officials indicating that they expected a rebound in prices with focus returning to supply and demand issues as oil prices in the low $60 BBL range made some new developments uneconomical. The firming of crude prices sees, Surgutneftegaz up 3% at 11.30 Moscow time, with Lukoil (up 2.7%) and Gazprom (up 0.7%) also gaininig.
Sberbank is up 2% in the wake of reports it has turned down an offer from Britain's Barclays Bank to exchange a 5% holding, with its state owned counterpart VTB (up 1.6%) now reported to be considering the proposal. Firming commodity prices are limiting the downside for Norilsk Nickel, Polymetal, and Polyus gold, with Raspadskaya down 5% and RusHydro down 2.4%.
The return of the Russian exchanges comes as Asian markets rebound strongly on Tuesday. In Japan, the Nikkei has closed more than 6% higher, after falling below the 7000 mark for the first time in 26 years, with the government bringing forward a ban on naked short selling which had been due to come into effect from November 4. Hong Kong had rebounded more than 14% in late afternoon trade from the 12% slump it endured on Monday. Early trade in Europe sees the FTSE 100 up 3% with resources stocks gaining, and the Dax up more than 4% with the Cac up more than 2%.
You can share this story on social media: